Director Ang Lee creates a groundbreaking movie event about a young man who survives a disaster at sea and is hurtled into an epic journey of adventure and discovery. While cast away, he forms an amazing and unexpected connection with another survivor. a fearsome Bengal tiger. This is the gist of the film Life of Pi.
The scene Zookeeper's son Pi Patel (Suraj Sharma) boards a cargo ship and leaves his hometown of Pondicherry for a new life in Quebec, but ends up sharing a lifeboat and faith-bending conversations with a 450-pound Bengal tiger named Richard Parker. Impressive CGI and Mychael Danna's spirited score make Ang Lee's adaptation of the hit novel a veritable dazzler and there are few Kerala Tourism connections as well that you should know if you are planning to visit Kerala.
Life of Pi-The Kerala Connection
Located in the Idukki district of Kerala, the beautiful hill station of Munnar is where the Life of Pi shooting was progressed. Life of Pi shooting location was Munnar for a short schedule.
The unique charm of this hill station Munnar inspired the filmmakers and it was the Life of Pi shooting location. Film crews from Life of Pi shooting mark Munnar as the best location to portrait the charisma of nature. The beauty of hill stations and tea gardens were well capture during the Life of Pi shooting.
AngLee's film is most famous for the CGI tiger of the second act but the entire first act Life of Pi shooting location was in the coastal town of Puducherry, where the blend of French colonial and Indian cultures is unique in South India and a true one-off for travelers.
Director Ang Lee could not have thought of a better Life of Pi shooting location than the beauty of Munnar in Kerala. Life of Pi shooting location will surely take you to dream paradise by showcasing some best shots and locations in Kerala.
The movie camera has done justice by capturing the beauty of verdant tea gardens in Munnar. Life of Pi becomes the latest movie to have been shot or have a Kerala Connection after Dil Se, Cotton Mary, Ravan, and Nishabd with a strong Kerala Tourism Connection which has been covered in our package Cinemascape Kerala in Kerala Shooting Locations.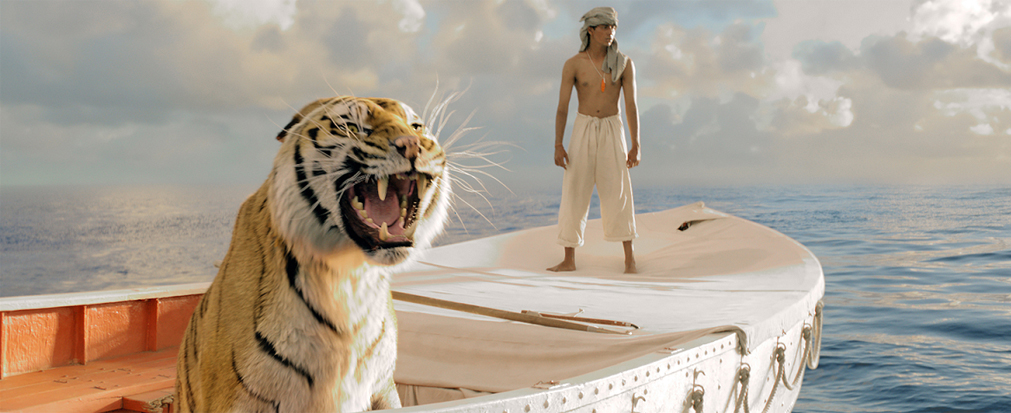 Here is the excerpt from Yann Martel's book on the Trip to Munnar by Pi and his family
I was fourteen years old – and a well‑content Hindu on a holiday when I met Jesus Christ.

It was not often that Father took time off from the zoo, but one of the times he did we went to Munnar, just over in Kerala. Munnar is a small hill station surrounded by some of the highest tea estates in the world. It was early May and the monsoon hadn't come yet. The plains of Tamil Nadu were beastly hot. We made it to Munnar after a winding, five‑hour car ride from Madurai.

The coolness was as pleasing as having mint in your mouth. We did the tourist thing. We visited a Tata tea factory. We enjoyed a boat ride on a lake. We toured a cattle‑breeding centre. We fed salt to some Nilgiri tahrs – a species of wild goat‑in a national park. ("We have some in our zoo. You should come to Pondicherry," said Father to some Swiss tourists.)

Ravi and I went for walks in the tea estates near town. It was all an excuse to keep our lethargy a little busy. By late afternoon Father and Mother were as settled in the tea room of our comfortable hotel as two cats sunning themselves at a window. Mother read while Father chatted with fellow guests.

There are three hills within Munnar. They don't bear comparison with the tall hills – mountains, you might call them – that surround the town, but I noticed the first morning, as we were having breakfast, that they did stand out in one way: on each stood a Godhouse. The hill on the right, across the river from the hotel, had a Hindu temple high on its side; the hill in the middle, further away, held up a mosque; while the hill on the left was crowned with a Christian church.

ALSO SEE – Best Places to Visit in Munnar

On our fourth day in Munnar, as the afternoon was coming to an end, I stood on the hill on the left. Despite attending a nominally Christian school, I had not yet been inside a church –and I wasn't about to dare the deed now. I knew very little about the religion. It had a reputation for few gods and great violence. But good schools. I walked around the church. It was a building unremittingly unrevealing of what it held inside, with thick, featureless walls pale blue in colour and high, narrow windows impossible to look in through. A fortress.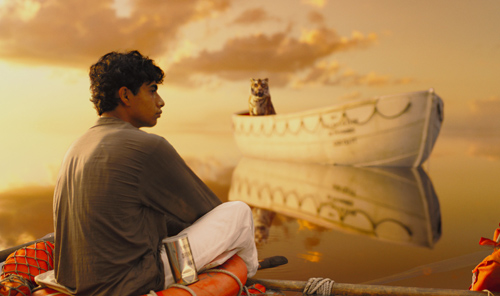 Not only is the connection to Munnar but also there is another connection with Kerala to Life of Pi. Apparently, Richard Parker the tiger that is stranded on the lifeboat with Pi when the ship sinks is based on few tigers in Trivandrum Zoo. The tiger lives on the lifeboat with Pi and is kept alive with the food and water Pi delivers. Richard Parker develops a relationship with Pi that allows them to coexist in their struggle.
In the story the hunter who captured the tiger was named Richard Parker. He intended to name the tiger Thirsty because of the tiger's long time drinking when he was found. In a confusion when it was time for Richard Parker to catch a train ride to find Thirsty a home, the woman at the ticket counter confused the tiger's name to be Richard Parker, and the hunter's name to be Thirsty with his last name being "None Given." Pi and his father found the story so amusing, the name stuck.
The movie's energy peters out in a series of book-club conversations about divine will, the power of storytelling, and the resilience of the human spirit. Life Of Pi is a mash up of fable, religious allegory, visual 3D feast, Animal Planet special, drama and comedy.