Nature has an amazing power to heal you and refresh you instantly. Because of this, we feel good when we are in the hills or by the beaches/backwaters. Kerala is one such place, which is rich in everything related to nature. Be it the rich flora and fauna or the greenery, Kerala has something, which not many states can boast to offer. So why not make use of the abundant nature that the 'God's own country' has to offer? Find out how you can travel from Munnar to Kumarakom.
Here is the deal: maybe it is time for you to do some healing by traveling through the foggy hills of Munnar, and tranquil water bodies of Kumarakom. Munnar and Kumarakom both are places in Kerala, which are famous for their beautiful environment and it would be best if you cover both the places together. Distance between the two places is not much and you can use various transportation modes to travel from Munnar to Kumarakom or from Kumarakom to Munnar.
Distance from Munnar to Kumarakom
The distance between Munnar and Kumarakom is around 150 km. There are various ways through which you can comfortably travel between these two destinations. 
Munnar to Kumarakom By Train
Kumarakom does not have its own railway station. The Kottayam railway station is the nearest railway station to Kumarakom and is located at a distance of 16 km away from Kumarakom city. Similarly, Munnar also does not have its own railway station. However, Aluva and Ernakulam Railway Stations are the nearest rail stations to Munnar, which are at a distance of 110 km, and 130 km respectively.
You can take a cab or board buses, if available from Munnar to any of these stations. Once you reach the railway station, you can take a train to Kottayam and hire a taxi or cab from there to reach Kumarakom. The train journey from both Aluva and Ernakulam Railway Station to Kottayam railway station takes around 2 hours. However, it is the road journey between Munnar to the railway stations that is hectic and time-consuming.
Munnar to Kumarakom By Bus
Both Munnar and Kumarakom are well connected by roads and have regular to and fro bus facilities. Moreover, covering the distances between the two towns by bus is one of the most inexpensive and comfortable options.
You can take a bus from the Kottayam bus terminus as well, which is located around 14 km away from Kumarakom village, however, it is not actually needed as many buses stop at Kumarakom as well. It takes around 3 hours to cover this journey from Munnar to Kumarakom by bus. However, this time can differ depending based on the road condition, weather, and different travel route. There are many governments as well as private air-conditioned buses plying between the two towns.
Munnar to Kumarakom By Air
Both Munnar and Kumarakom don't have their own airports. Cochin International Airport is an airport, which is the nearest distance to both these towns. This airport is at a distance of 80 km from Kumarakom and at a distance of 110 km from Munnar. Therefore, one cannot travel between the towns of Munnar and Kumarakom by air. However, Cochin International Airport serves as a good option for people who are traveling from major international cities and want to travel to Munnar or Kumarakom. From the airport, travelers can choose from various AC and non-AC cabs or city buses to travel to their destination.
Munnar to Kumarakom By Road
The best way to travel from Munnar to Kumarakom or vice versa is by cab, which takes around 3 hours to cover the distance between the two towns. These cabs charge around Rs. 3000 for this journey and are extremely comfortable.
ALSO SEE  – Top 16 Best Places to Visit in Munnar in 2021
Munnar
Situated at around 1,600 meters above sea level, Munnar is a breathtaking town and hill station located in the Idukki district of Kerala. Once the preferential summer resort of the previous British Government, the place has now become a popular honeymoon destination. Not only for couples, the never-ending spread of tea plantations, unspoiled valleys and mountains, charming towns, exotic flora and fauna, and the cool atmosphere make Munnar one of the best hill stations in India, which is perfect for relaxation.
As people from all over the world visit Munnar for its natural beauty, the place offers a wide range of hotels and resorts, which fit every budget. From Munnar, you can visit various other towns and cities like Kumarakom, Kochi, Coimbatore, etc., and enjoy their beauty.
When in Munnar, other than enjoying a splendid and exciting view, you can also experience the lifestyle and livelihood of local people. You can visit places like Attukad Waterfalls, Lakkam Waterfalls, and Kundala Lake and have fun playing in the water. You can also trek to Echo Point and Top Station and witness the beautiful scenery from there. 
Kumarakom
Situated 13 kms away from Kottayam, Kumarakom is a small village in Kerala. It is a group of small islands on Vembanad Lake, which make it an enthralling backwater destination. The place is a heaven for adventure lovers as they get to enjoy activities like fishing, boating, backwater cruising. If you are a nature lover, you can bask around in extensive greenery, calm backwaters, and different flora and fauna.
Vembanad Lake and Kumarakom Bird Sanctuary are major tourist attractions here. Road, Rail, and air connect Kumarakom with various parts of India. Kumarakom Bird Sanctuary, which is spread across 14 acres is a must-visit place in this beautiful small town. One other must-visit place here is Shiva Temple at Ettuman, which is famous for its wood carvings.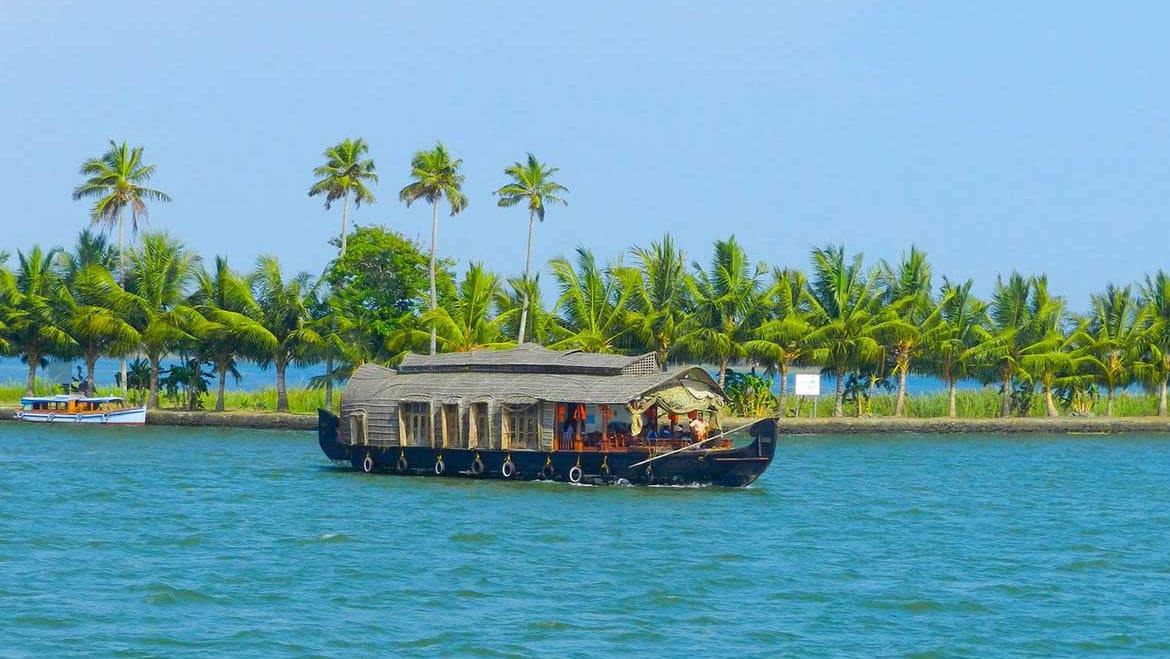 As you make the transit from Munnar to Kumarakom, you will see that the hills will be getting replaced by backwaters and beaches. Here, you can also experience some time in a houseboat.
Both Munnar and Kumarakom are gems of Kerala and a trip to the state is incomplete without the visit of these two towns. You can book your tour in a way that you get to spend equal days in both the towns. If time permits you can also cover the beautiful town of Alleppey on this trip. Now: Although there are many methods through which you can go from Munnar to Kumarakom, it is best to take a cab. A cab or taxi is both comfortable and fast.