Marari and Cherai beaches are among the best beaches in Kerala, and both of them have their own charm, which attracts tourists from all over the world. But it can be a tricky choice to make if you have only a few days in hand and you cannot make your mind about whether you should stay in Marari or Cherai. Don't worry; we are here to help you! Here is the deal: we have prepared a snapshot of both these places, along with what they are famous for, which will help you make an informed choice! It will also prepare you for what to expect when you visit these places.
ALSO SEE- 25 Best Beaches In Kerala To Visit (With Photos)
Beach Flavor- Pristine Beach of Marari or Cherai Seashore Beach
If you are looking for a more than the idyllic type of holiday and confused between Marari or Cherai, Marari beach is the place. Marari beach has white sand and natural surroundings in a fishing village. When compared to Cherai beach, Marari is neat and clean, and almost plastic-free. The beach is usually empty and is surrounded by a range of upscale resorts and restaurants. It is one of the best sandy beaches in South Kerala adorned with a lot of coconut trees. However, the current here is a little bit rough when compared to the Cherai beach.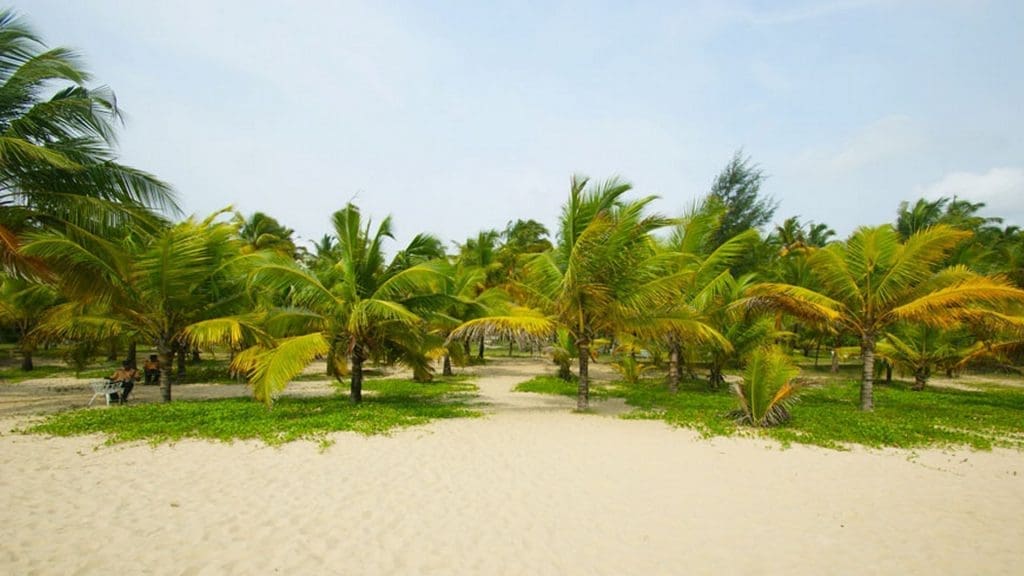 Cherai beach Kerala is the perfect destination for beginner swimmers and families with kids. Cherai is a town which is famous for Cherai beach – the longest beach in Kochi. Popular by the name of 'Princess of the Arabian Sea', Cherai beach Kerala is best for relaxation with the picturesque view. Not only this, Cherai is the only beach where you can spot dolphins if you are lucky enough.
If you find the Cherai beach too crowded, you also have an option to visit nearby secluded beaches or backwaters and enjoy the calmness there. Cherai is a village where you can enjoy both backwaters and beaches in Kerala and there are stay options like some resorts where one side in backwaters and another side is beach even though you may have to cross the road.
Marari or Cherai – Which is a Family-Friendly Beach?
The Marari beach is in a fishing village and is far from the noisy crowd and is detached from the world, which makes it ideal for honeymooners and families. Moreover, you are sure to have an extremely luxurious and fun stay if you choose to stay at the famous Marari beach resort, which although classy with authentic Kerala thatched roofs.
Cherai beach, although not as beautiful as Marari beach, is not only budget-friendly but also better if you are looking to swim in its waters. A combination of both backwaters and sea, the Cherai beach Kerala is known for dolphin sightseeing. However, the view and the beach experience are much better in Marari beach as Cherai is near a tarred road with a man-made rocky promenade.
ALSO SEE- 25 Best Beaches near kochi(With Photos)
Marari or Cherai – Which has the best Cuisine options?
When it comes to Marari beach, there are temporary huts on the beach, which offer amazing, tasty food. Between Marari or Cherai, Marari is a first-rate place if you want to relax and just enjoy some delicious local cuisine. In Cherai, although you can find finger-licking street food, there are not many high-end restaurants. However local shops are aplenty in Marari and Cherai
How to reach Marari and Cherai ?
If you are looking for a beach which is closer to the airport between Marari or Cherai, then Cherai should be your choice.
ALSO SEE- Airports in Kerala- Helpful guide for tourists
When it comes to Cherai, the distance between Kochi airport and Cherai is only 26 km, which can be covered in a 45 minutes drive. If you want to reach the place by bus or train, you can reach Aluva railway station or bus stand and take an auto from there to reach Cherai. Thus, no matter whether you choose Marai or Cherai, you at least don't have to worry about connectivity as both the places are well connected and can be reached through various transports.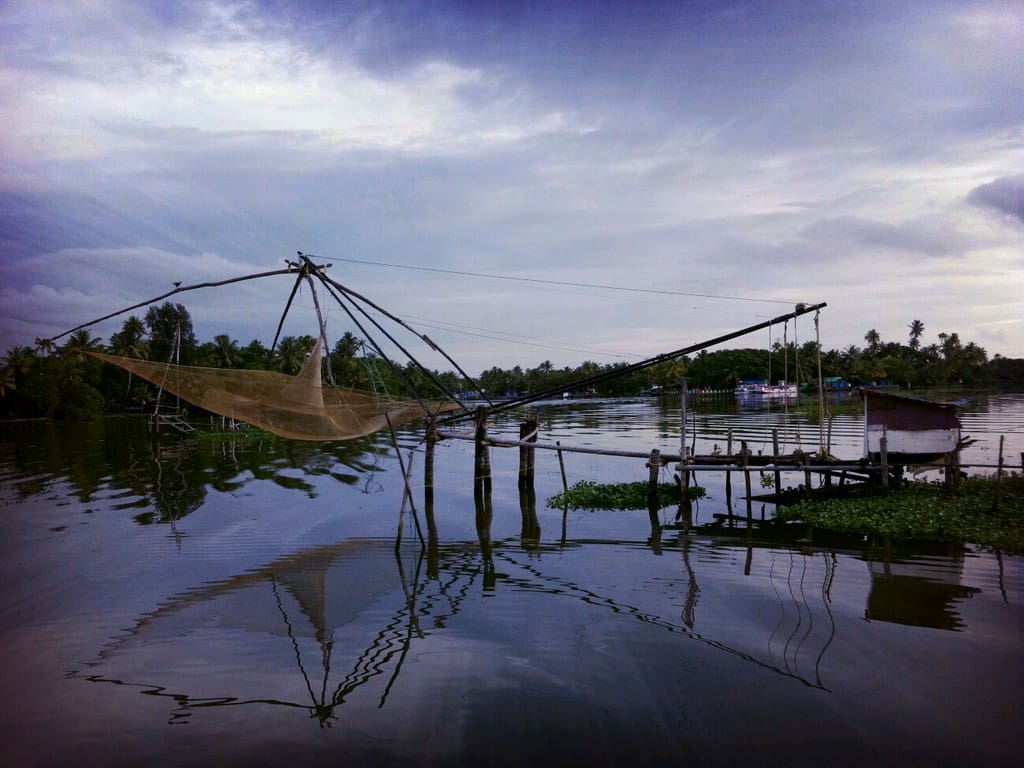 With a distance of 74kms between them, Kochi airport is the nearest airport to Mararikulam and can be reached within 2 hours by car. If you plan to visit this place by train, then you can do it as well, as there is a Mararikulam railway station, where most of the trains stop. Mararikulam does not have a bus stand.
Best time to visit Cherai beach or Marari Beach
The Cherai beach near Kochi is the epitome of peace and happiness which we often dream of and wish to visit at least once in our lifetime. The best time to visit Cherai beach or Marari beach weather-wise is from September to March. For someone who wants to escape to the destination of beaches, Cherai beach Kerala is where you can enjoy a pleasant ambiance with be switching spots.
Though this picturesque retreat can be called a year-round destination, the winter months are the best time to visit Cherai beach. During this period of the year, the beach experiences a moderate to chilly climate. The best time to visit Cherai beach during the day is evening. In the evening, tourists who visit Cherai beach can witness the alluring beauty of backwaters merging with the majestic Arabian Sea during the gorgeous sunset.
Accommodation Options in Marari and Cherai
Marari is well known for its huge selection of resorts right from 5-star luxury resorts to boutique hotels to homestays to guest houses. You can also find some extremely luxurious resorts in Marari, which provide all the facilities to the visitors visiting there like the famous Marari Beach Resort. The place is brightened by native fishing villages, which surround the beach and make the beach look stunning. Although, just like all other things, staying at Marari is also expensive when compared to Cherai, but it is still worth it.
ALSO SEE- Top 10 Best Beach Resorts in Kerala for your Vacation
The best part about staying at Cherai beach is that on the one side you will have a sea beach and on the other side you will have a beautiful lake. Although you won't find resorts with private beaches, you will still get access to the main beach. You can also get accommodation located on the backwater so that you can get access to the backwater as well. No matter whether you choose Marari beach or Cherai beach for your stay, you surely will have a gala time as you will get access to beautiful waters.
Marari or Cherai Sightseeing
Now: Marari Beach is stunning and unspoiled, and one of the reasons behind it is that it is still lesser-known and has not been much affected by the over development of other tourist attractions. However, this also means that you are a travel enthusiast there is not much for you to do on this beach. You won't be able to do any water sports on this beach, and the beach is ideal only for swimming and spending quiet time. On the other hand, you cannot only swim and spot dolphins on Cherai beach but also get involved in various other activities, like scuba diving and many more on Cherai beach.
No matter whether you decide on visiting Marai or Cherai, you will get to visit a handful of other tourist attractions around these beaches. In Marari, you can visit religious places like Mararikulam Shiva Temple, Kokkamanagalam church, Thiruvizha Shree Mahadevar Temple, and Arthunkal church. Some other spots to visit are – Thumpoly beach, Velorvattam, Panavally, and the Chinese fishing net. In Cherai, you can visit Gowreeshwara temple, Azheekkal temple, Pallipura church, Munambam beach, and Sahodhara Bhavan.
Other than opting for sightseeing in Cherai, you can also have a houseboat cruise on the Vembanad lake. You can also visit the paddy fields and enjoy a walk around the coconut orchard. The Marari Beach, on the other hand, is untouched by commercialization and you can explore the surrounding areas on foot.
Are you confused about which beach to visit for your next Kerela vacation? Want to know the best part? The distance between both Marai beach and Cherai beach is only 76 km, which can be completed in merely 2 hours by car. So, why don't you spend 2-3 days at both the beaches? This way you won't have to make the difficult choice between Marai or Cherai, and you will get to enjoy the best of both the world!