Kerala is a land of beauty and attraction – some called it the land of romance, some called the land of love, some called the land of elephants and some called it the land of Nature. Of course, Kerala's stunning scenery and eye-catching views that you can enjoy through Kerala Images make it worth calling all these names and the most well known of all – Gods Own Country.
Besides all the natural scenes, it has wildlife parks, waterfalls, and backwaters ready to attract the heart of photographers and nature lovers. Words are less to explain – Kerala's outstanding beauty and mystical scenes are better observed if you visit the place yourself.
Apt for family vacations, romantic getaways, and honeymoon, here are some Kerala images of top tourist places in God's Own Country that must be a part of your travel plan.
So if you're wondering what Kerala is really like, we are here to help you.
Cheer up! These images of Kerala are guaranteed to transport you to paradise or Gods Own Country.
While you may be wondering about where all to head in the charming land, our Kerala tourist places list with images will surely be helpful.
#1
Backwaters of Alleppey
Backwaters of Alleppey with their serene beauty attract a fair number of people to their territory and top the list of most beautiful Kerala images. A cargo boat taking the paddy to another part of the Alleppey district through backwaters. These boats were used in ancient times for transporting paddy, spices, coconut husks and other local produce. These boats gave away to houseboats with thatched roofs tapered towards the top, quartered window or glass frames girded by coir, wooden or bamboo-matted partitions and flooring made of wooden slabs.
Here are 30 of the most stunning and awesome Kerala Tourism Images from Instagram and other sources which will definitely make you think that you should visit this place at least once in your lifetime.
#2:
Munnar Tea Gardens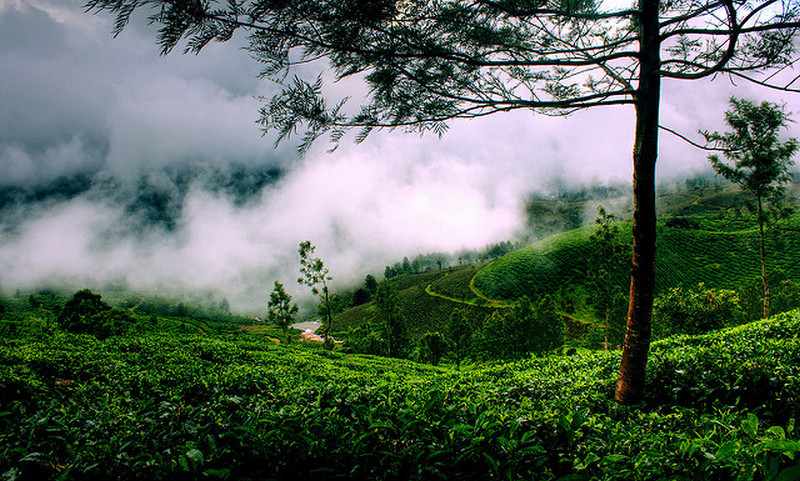 Munnar tea plantations is among the most famous places to visit in Kerala. It is remarkable not only for the refreshing natural views of tea gardens but also for the sweet scent of tea leaves that fills the air of Munnar.
Newly married honeymoon couples visiting Kerala love to romance there in the company of tea leaves. Imagine yourself with your loved one walking with handing in hand or enjoying a cup of tea at the place from where it's originated? Awesome or not?
Besides the green views, the light, soft clouds seem to be so close to touching with your hand. Such a Nice Scene you will surely don't like to miss a photo of you in a Munnar Tea garden.
#3:
Near Athirapally Waterfalls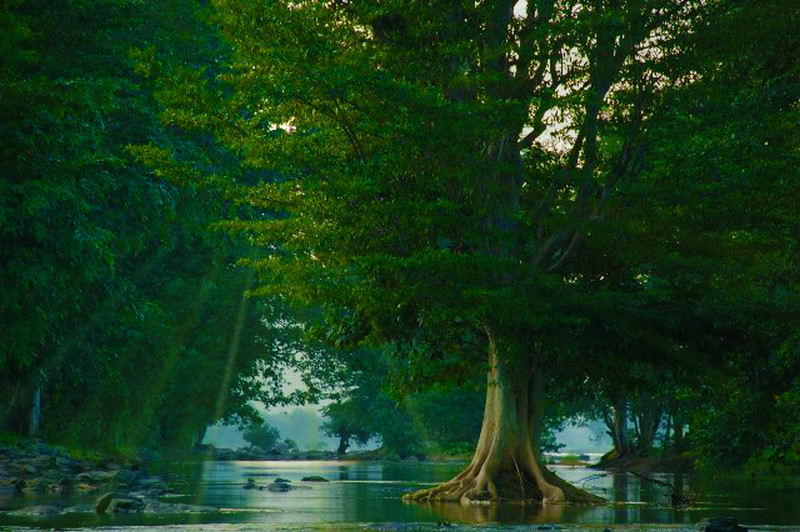 This beautiful picture is photographed near one of the popular waterfalls in Kerala – Athirapally waterfalls. It is the largest waterfall in Kerala and is also called the 'Niagara Falls of Kerala '. Being the largest waterfall and the green views with the musical sound of dripping water, it's very popular among tourists.
Moreover, Vazhachall falls are close to this and thus it's another popular tourist destination. Drenching in the waters of these falls, especially in summer, is a great way to enjoy Kerala Tourism.
The images of Kerala fail to describe the waterfalls which are heaven for nature lovers who want to soak in beauty and tranquillity.
#4:
Ooo..! It's Raining in Kerala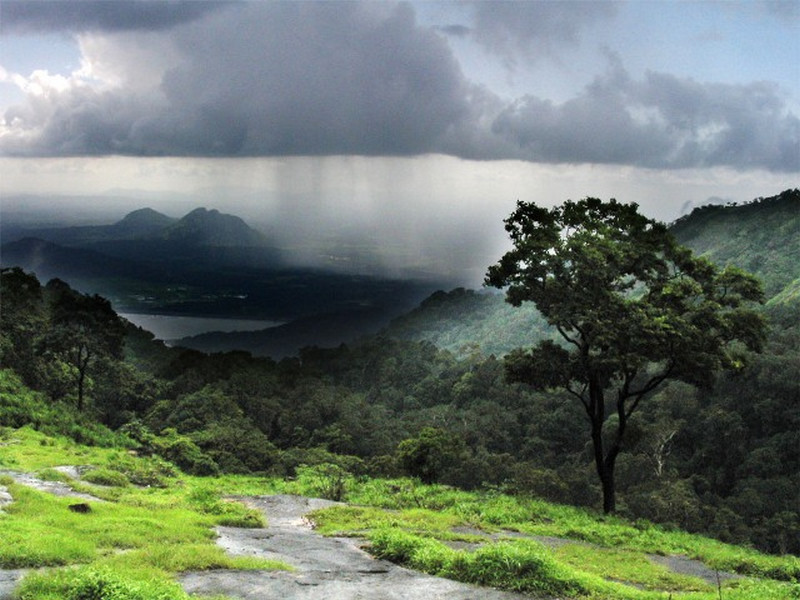 Lucky are those people who enjoy the rain and Monsoon Tourism in Kerala – It's a great and much more than just an 'eye-catching' view. The rain in Kerala is not only ready to wet you outside but you will also feel wet inside. Your soul will get drenched in the greenery all around. Everything will look new and fresh– just like a painter freshly paints and remake all his sceneries in paintings.
It's awesome how nature paints and fill the colours again in the atmosphere. Cool!
The looming clouds with the smell of earth are the perfect way to romance in the rain that cannot be felt in the Kerala images.
#5:
At Vadanappally- Beauty of Villages in Kerala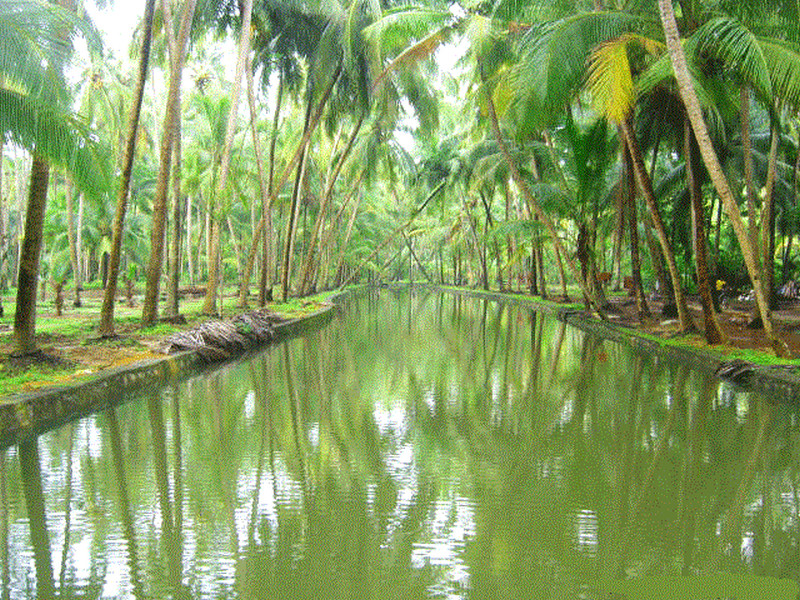 Vadanappally is a beautiful village located in the Thrissur district. It has also a beach named Vadanappally beach – clean and pleasant, Moreover, the seashore is lined with beautiful coconut trees and it's a great place for swimming, sunbathing and having naughty moments with your loved one or a friend. The whole area is covered with attractive water bodies. Visiting the area in the morning is a great way to refresh yourself and let your eyes feel nature so closely.
ALSO, SEE Top 15 Best Beaches of Kerala with Photos
#6:
Scenic Roads through woods and beaches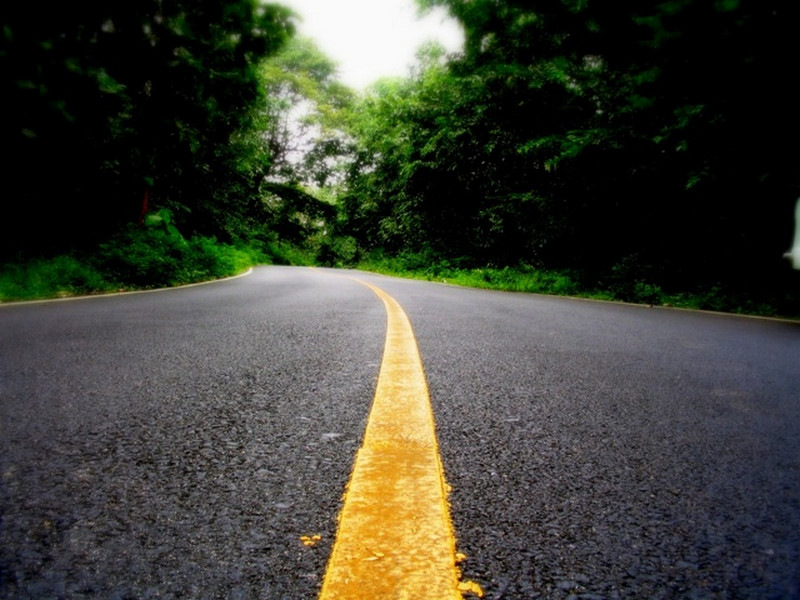 Enjoy a long drive on the roads through the dense forests. 'Idukki' a district in Kerala is famous for the roads that pass through the heart of lush green jungles. Enjoy having a bike and drive through the long roads. It's a unique experience if you never enjoyed a journey like this.
Hire a Jeep or bike and go enjoy on the roads of 'Idukki' – enjoy the cool breezes of the wind, the scented air, and the green trees – nature near your soul.
#7:
The Paddy fields of Kerala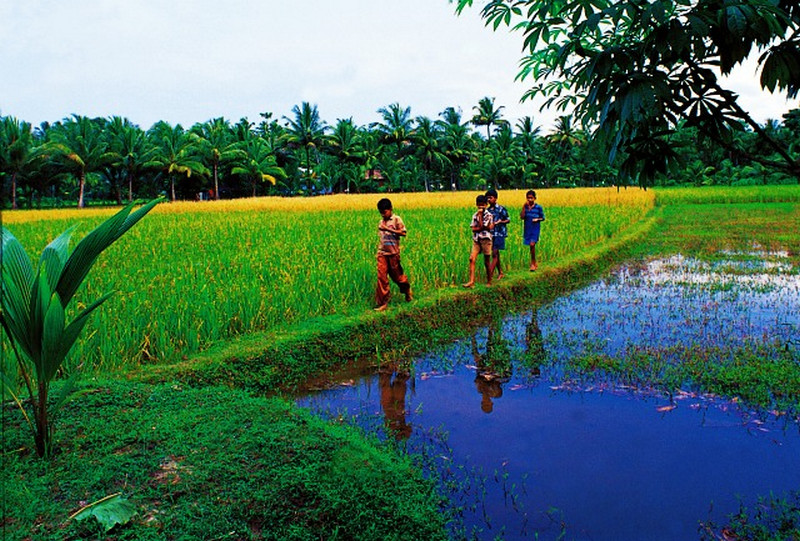 The above picture is showing the local children playing at the paddy fields in Kerala. Kerala's people are simple and most of them are in the Profession of farming. You will find a lot of paddy fields there – bringing another great view to your eyes. Walking in these paddy fields is also a peaceful, enjoyable and memorable event.
They are worth seeing in the evening at the sun setting – The paddy fields are appearing to be peaceful and silent, with the light rustle of leaves somewhere. You are not going to enjoy such impressive scenery somewhere else.
These Kerala images give an insight into the lush greenery of the paddy fields that are the most captivating feature of the Kerala landscape.
#8:
Backwaters of Kerala!!!!!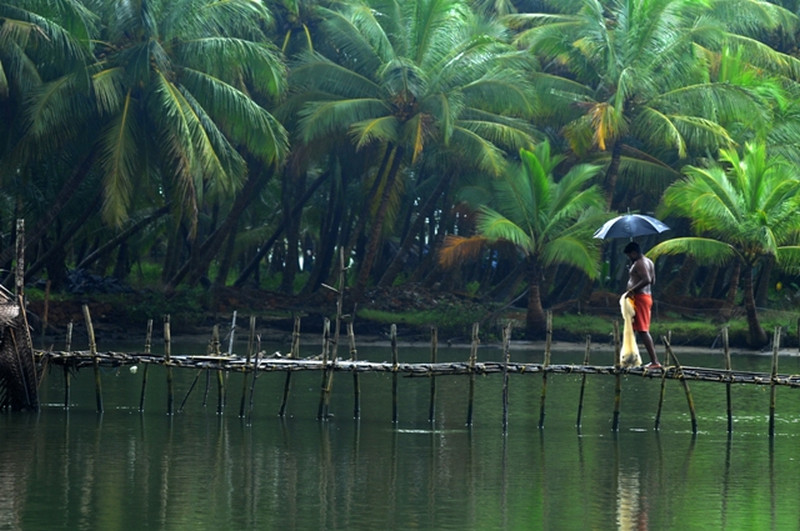 Kerala's backwaters are famous due to their natural calm and silence. Seeing these backwaters in summer and having fun in a boat is worth trying. Kerala's clean lakes and water bodies make a chain of backwaters across the whole of Kerala.
ALSO, SEE How to Plan Your Kerala Backwaters & Houseboat Trip – The Complete Guide
The above picture is showing the scenery of backwaters in Kasargod – a famous backwaters destination in Kerala. The houseboat visits and boat rides add an additional and memorable fun to the tourists. Moreover, the snake boat races are also another lovely event to watch.
Another great backwaters destination is Valiyaparamba. Treat your eyes to the water sources of 4 rivers as well as a magical view of a little island.
These images of Kerala backwaters hold everyone captive with their alluring silence.
#9:
Watch Theyyam Dance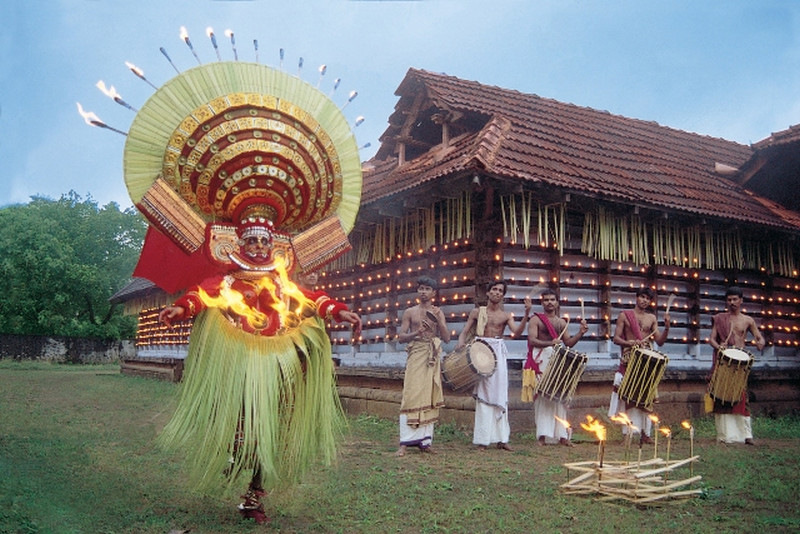 Theyyam is one of the popular ritual dances performed by locals. Among the locals, it's also called to be the 'dance of gods'. Theyyam includes dance, mime, and music which shows the culture of ancient tribals which has great importance among locals. From about 400 the yams performed, the most popular and spiritual ones are the Raktha Chamundi, Kari Chamundi, Muchilottu Bhagavathi, Wayanadu Kraven, Gulikan and Pottan.
These thayyams are performed annually from December to April at the Parassinikadavu Sri Muthappan Temple in Kannur.
Beyond the blue waters and sprawling coconut trees, Theyyam is the art of Dancing Gods. The magnitude and magnificence in all the glory of this performance cannot be witnessed in Kerala images.
#10:
Shoranur Railway Line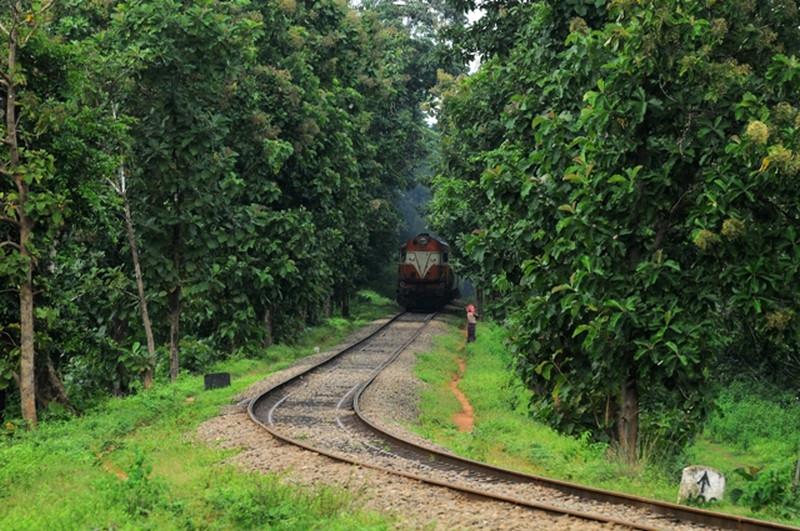 Nilambur – Shoranur railway line is one of the shortest broad range railway lines in India. Passing through the dense forests, you will enjoy the journey along with the winds, the birds and the rustle of tree leaves throughout the journey. It's also a better and cost-effective idea to move across Kerala by train – you will get a thorough overview of the beauty, innocence, and attractiveness of the whole of Kerala.
#11:
Vagamon Forests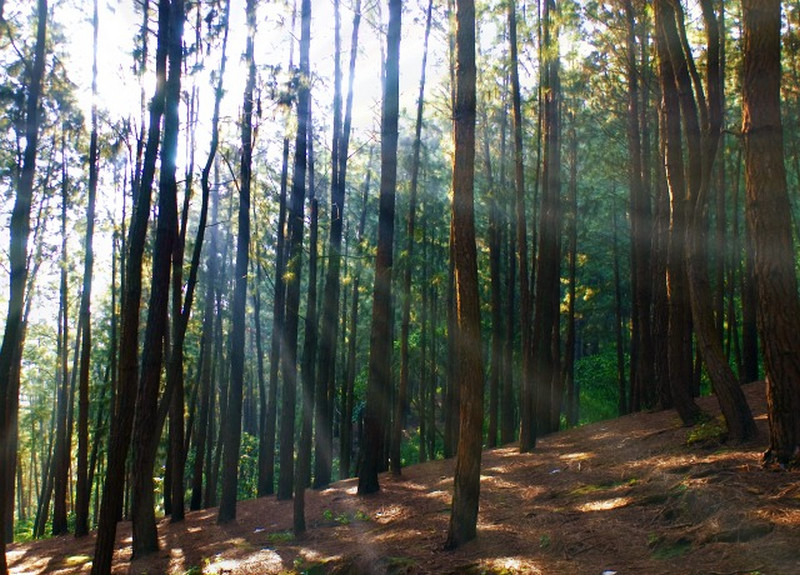 Vagamon is a beautiful hill station comprised of cascading waterfalls, landscapes, and valleys. The above picture shows a part of Pine forests lined at a solid rock in vagamon – standing with its outstanding beauty and Natural Charisma. Besides Pine forests, vagamon has a lot of greenery, fog, and green meadows which make it worth visiting.
Vagamon is one of the major places of attractions for tourists and honeymooners in Kerala. With uncountable stunning natural sceneries=, it's also a great spot for taking snaps and making small videos with friends and family. It's also a strongly recommended place if you are planning a trip to Kerala.
These images of Kerala are proof of how Vagamon Forests add a unique charm to the tropical city of Kerala.
#12:
Kovalam Beach view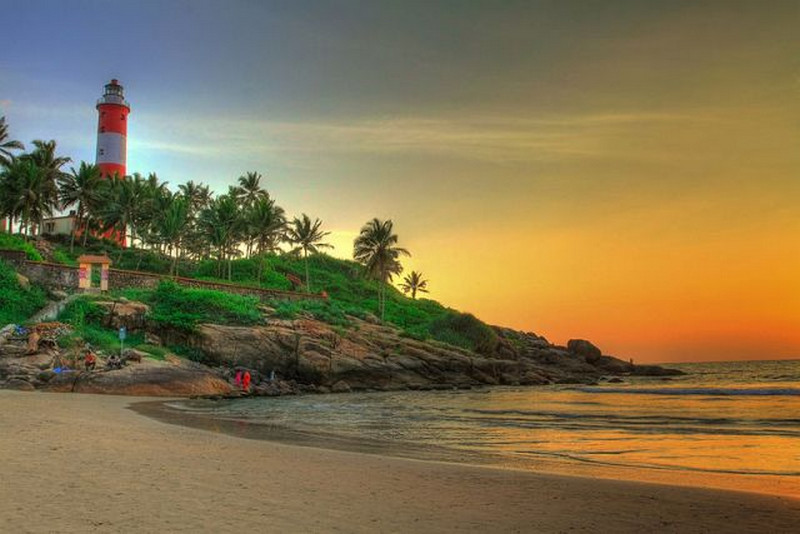 Kovalam beach is one of the most famous and eye-catching places in Kerala. It's the tourists love. Swim, play with sand or cuddle up with your loved one. The beach is also decorated with a beautiful lighthouse and green trees along with the green rocks treat eyes with its mystical views – especially in the morning and evening. Watching the sunset in the evening at Kovalam is another great scene ready to catch your heart.
Taking sunbath and having some funny gossips, smart laughs made the whole day worth it at Kovalam. It cannot be fully enjoyed in one day. To explore the Kovalam and enjoy it in true meaning, you have to spend more than one day there.
These Kerala images depict that the Kovalam beach view offers a naturistic pleasure that is an idyllic getaway from the hustle-bustle of everyday life.
#13
Eravikulam National Park
Home to a number of endangered species in western Ghats, this national park is among the best tourist spots to visit in Munnar. You can experience the wildlife at a very close distance and is an amazing opportunity to get in touch with nature.
#14
Indo Swiss Dairy Farm in Mattupetty
Established by the collaboration of the Indian Government and the Swiss Confederation in the year 1963, Indo Swiss Dairy Farm's main objective is to popularize the new breed of cattle. It is a cattle cum research centre where more than 100 varieties of cattle are taken care of.
Dedicated to cattle breeding and rearing, Kerala images of Indo Swiss Dairy Farm are sure to convince you to visit it.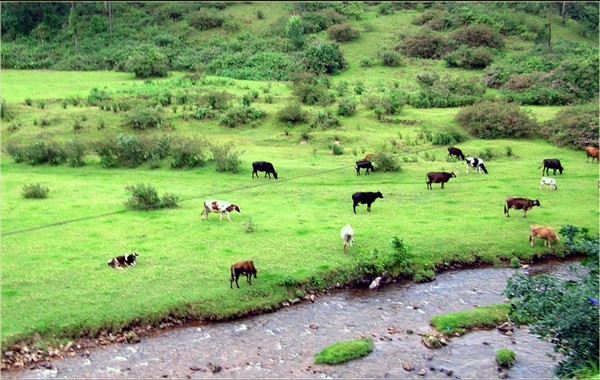 #15
Elephants near Mattupetty Dam
Located at 13 km away from Munnar, the main attraction here is the dam and the lake, where you can enjoy the widespread greenery and the amazing climate. Apart from sightseeing, you can also engage in extreme sports activities like speed boating and trekking in the Shola forest.
#16
Watch Anaimudi peak from a distance
This is the highest peak in India and is a part of Eravikulam National Park. Heavily surrounded by rich flora and fauna, Anamudi is the key place to find endangered Gaurs, Nilgiri Langurs, and Lion Tailed Macaque. Moreover, you can also find the largest population of Asian Elephants here.
#17
Sunset in FortKochi Beach
Famous for its European architecture, Fort Kochi is one of the best places you will visit in Kerala. This is a key place in the city of Kochi, which enhances the city's beauty tenfold. You can experience traditional fishing and if you are lucky enough, you can also come across the amazing sunset that mesmerizes its viewers.
The beauty of this first European township in India cannot be felt in images of Kerala.
#18
Attukal Waterfalls in Munnar
While staying in Munnar in Kerala, Attukal Waterfalls will be the most amazing tourist spot for you to visit. The natural arrangement of rocks and water falling will dwell in your thoughts forever. For the people who love trekking, this is the ideal place. Along with the amazing wildlife and natural greenery, you can soothe your soul with this amazing view.
#19
Local Fishermen and Pristine Beauty of Cherai Beach
Being a very quiet and clean place, this beach displays the natural beauty of the best beaches in Kerala. With a number of resorts lined up along the beach, you can enjoy quality time with your soul mate, friends, and families. It is considered an ideal place for swimming and many different species of fish along with dolphins can be found.
These Kerala images of Cherai beach show that it is a perfect merging point of the sea and backwaters and is a must-visit.
#20
Elephant bathing at Kodanad Elephant Center
Kerala being extremely famous for harnessing elephants on any occasion has a Kodanad Elephant Training centre where a large number of elephants are taken care of. An exotic place surrounded by the Periyar river and high ranges at Perumbavoor, Kodanad is considered one of the best places to explore in Kerala.
#21
Marine Drive in Kochi
It is a pollution-free zone widely known for its malls and shopping centres. You can buy all your souvenirs for your friends and families here and is a great place to hang out and relax. Creating a great view of the city due to Kerala's backwaters, this place attracts a large number of explorers and is one of the key places in Kochi.
These images of Kerala showing a beautiful and picturesque promenade in Kochi which faces towards the backwaters are sure to attract you.
#22
Backwaters in Alleppey
Widely known as a must-visit place in Kerala, Alleppey backwaters attract a huge number of tourists who come to spend a memorable time here. The peak time is during the monsoon when the water level is highest. Various activities and the boathouses make this truly a dream place to visit.
#23
Coconut Tree Lined Beach of Marari
Located just 11 km away from Alleppey, Marari beach is a major tourist attraction. The calm sea and the soothing sand will relax you deeply. The numerous resorts with beach viewing rooms make this tour quite interesting. The coconut groves lined around the beach enhance the natural beauty of this place.
#24
Light House in Alleppey Beach House
Standing proud for 154 years, this lighthouse holds major historic importance for Kerala. Showing way too many traders, this lighthouse is now open to public views. This historical lighthouse enhances the importance of Alleppey port along with its beauty.
These images of Kerala are proof that these are not only red striped lighthouses along the coastline but also provide some breathtaking views of the area.
#25
Bird Sanctuary in Kumarakom
Home to numerous bird species, this sanctuary is surrounded by extraordinary greenery and blue skies. The sight will make you jealous of the birds flying and will ignite a burning desire to touch the skies. The place offers boat rides from the Kavanar River, making the trip unbelievably amazing.
A vibrant hub of rare and numerous avian species, the bird sanctuary ranks Kerala tourist places list with images.
#26
Backwater Cruise in a Houseboat
Fall in love with the beauty of nature at Backwater cruise, where your time will be spent on a boat admiring nature's creativity. The clear water, blue skies, floating lotuses and coconut woods will refresh your mind and body. The centre of attraction would be the lovely night you will be spending in the traditional houseboat.
#27
Bay Island Driftwood Museum
With a beautiful story in the background, this museum is a place of interest to many art lovers. The high-quality sculptures are designed with extreme originality and flowing emotions. The next time you visit Kerala, make sure to visit this museum and get inspired by the beautiful and artistic emotions displayed.
Prepared through a rare and innovative modern art form, these images of Kerala of superior quality driftwood articles are sure to impress you.
#28:
Elephant Herd near Thekkady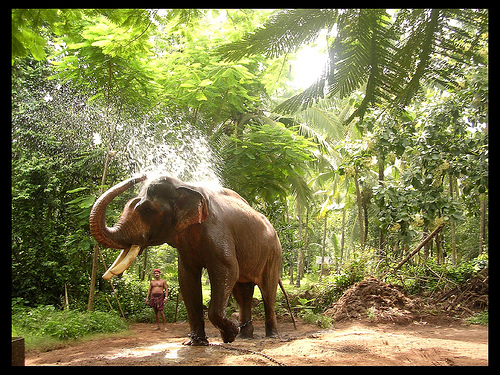 Located at the Periyar National Park – one of India's finest Wildlife reserves has a collection of wildlife like Periyar tigers, Elephants, Deer etc. Having an elephant ride there will add another remarkable adventure to the journey.
It's also a great place for people who love photo shooting with animals and rafting in bamboos. A haven for wildlife photographers – get yourself close to the Jungle life in between the fierce tigers and giants structures – Elephants.
With a picturesque view of lush green surroundings, images of Kerala elephant rides around Thekkady do not allow you to enjoy the real pleasure of this amazing destination.
#29
Valiyathura Pier
Valiyathura Pier is a tourist spot where you can admire the sea in its most beautiful form. Ideal for taking pictures, you can feel the cool breeze grazing through your skin arousing a sense of natural beauty. This is a must-visit place in Kerala and is a great attraction for tourists.
#30
Backwater views from Houseboat
The expanses of paddy fields, quaint chapels, fishing villages, lakes filled with water lilies make backwaters the best Kerala tourist places list with images. This is not a watercolour painting but the snap taken on the backwaters of Alleppey when we went for a cruise. Enjoy the scenes like this when you go on a cruise in the backwaters of Kerala.
These images of Kerala depicting the clash of hill stations, temple towns, backwaters and lakes must have surely amazed you.
Once you set foot in the beautiful paradise, you will understand that these Kerala tourist places list with images do not do justice to the true beauty of this place.
Kerala has magical and eye-catching views at every step. We are presenting this article to bring the best of in front of your with the help of Kerala images. Once you visit, surely you feel like not to return forever from that place. It's a land of waterfalls, green meadows, hill stations, tea plantations and simple and friendly people. If you plan to go, we recommend you to also visit the local shops, and meet the locals. It will be a unique experience to meet those people and maybe you can explore a hidden beautiful place because of them!!
Get drenched under waterfalls, play at green meadows, walk in the paddy fields, feel the scented air and do whatever cool and outstanding you want to do in Kerala. At last, the most important thing – don't forget to take a lot of Empty space in your Camera or Memory Card – You are going to take a snap at every Step!