Ever wondered why Kerala, a small but graceful state in South-India, often known as 'God's Own Country?' The rich culture, historical and natural beauties, and all things serene have earned the state this title. One such instance which the city offers its tourists is Kanakakkunnu Palace.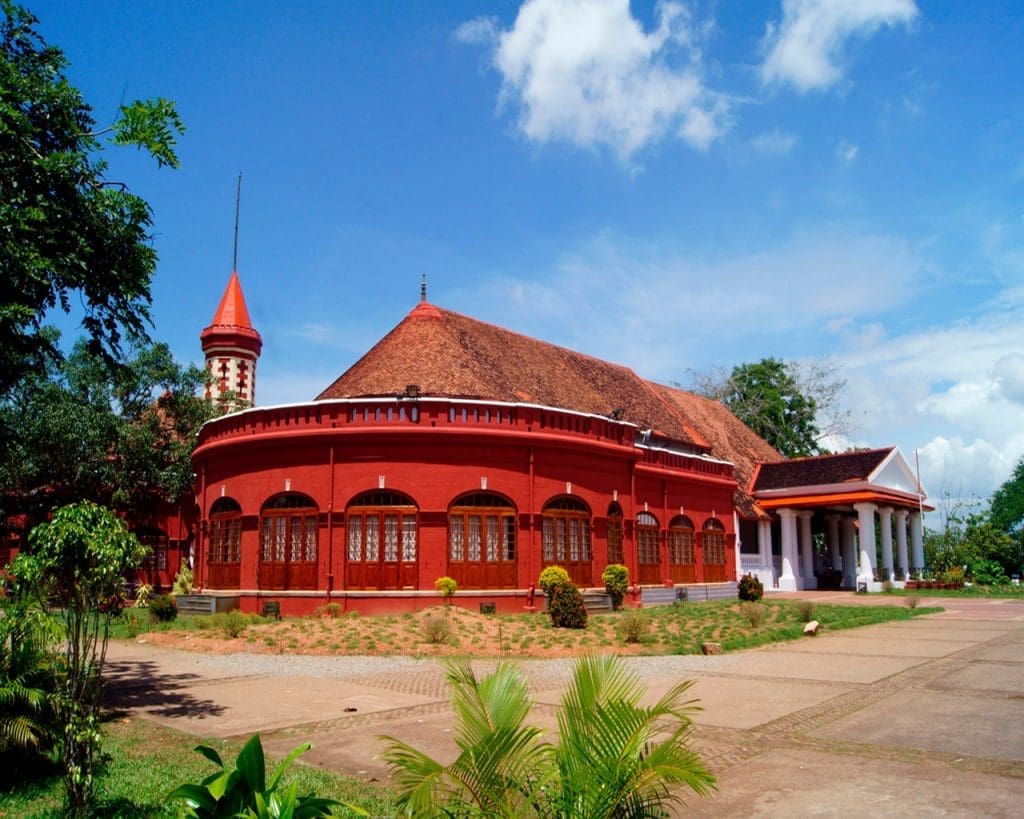 Adorned by majestic architecture exhibiting the city's talented skills men of the past, this commendable red façade stands in the centre of a lush green park blossoming with flora variations throughout the year. Each year, the Palace comes alive during the All India Dance Festival between October and March, where artistic dancers grace the venue with beguiling classical performances. Want to attend these festivals? Check out 'Kanakakunnu Palace programs today' on Google to find the schedules of these cultural programs.
ALSO SEE – 9 famous Palaces in Kerala You Must Visit To Explore Kerala Culture and Heritage
Kanakakkunnu Palace- A Historical marvel waiting to be explored
The gigantic kanakakunnu palace is said to be constructed by Sree Moolam Thirunal, a ruling Maharajah of Travancore- the Indian Kingdom back in 1885. This palace was used for the purpose of entertaining guests and serve them non-vegetarian food. If you want to know more about this place, you can read books on Kanakakkunnu Palace history in Malayalam
Kanakakunnu Palace is Victorian-era Architectural Marvel
Dipped in Travancoran heritage, kanakakunnu palace embedded in natural beauty and enriched in artistic culture, this red-bricked structure is made of white stone dressings. A living representation of the Keralan-Gothic styles of Victorian-era architecture perfectly, Kanakakkunnu Palace building has a contrasting rounded hall along with a dignified neoclassical entrance portico.
ALSO SEE – Napier Museum (Arts & Crafts Museum)
Nearby Places of Interests for Tourists
People visiting the Kanakakunnu Palace Trivandrum often ask What attractions are near the Kanakakunnu Palace?
Apart from witnessing the artistic Kanakakunnu Palace architecture and rich natural surroundings, tourists also visit this serene place to explore nearby areas of interest. These include gorgeous natural parks with overflowing greenery, temples with structured divinity, museums telling a tale of the past, and astounding beaches with soft sands and magical sunsets.
Some of the remarkable places located near Kanakakunnu Palace that you must explore:
• Kovalam Beach: Located 15 km away; 25 minutes drive via Kovalam Road
• Sri Padmanabhasamy Temple: Located 4.3km away; 10 minutes' drive following Mahatma Gandhi Road
• East Fort: Located 4.2km away; 7 minutes' drive following LMS Vellayambalam Road or Mahatma Gandhi Road
• Napier Museum: Located 1.6km away; 4 minutes' drive following LMS Vellayambalam Road
• Kuthira Malika: Located 5.1km away; 9 minutes' drive following LMS Vellayambalam Road or Mahatma Gandhi Road
• Trivandrum Zoo: Located 1.8km away; 4 minutes drive following LMS Vellayambalam Road.
How to Reach Kanakakunnu Palace?
Various cars, taxis, and buses run between the 3.5km distance of Trivandrum Central Railway Station and the Kanakakunnu Palace. Similar transport is also available for the Trivandrum International Airport located 5 km away.
Best Time to Visit Kanakakkunnu Palace
Tourists from all over the world grace Kanakakunnu palace throughout the year who come here to adore medieval India's magnificent architecture. But if you want to avoid the humidity and extreme heat, you can visit the place between October and March when a pleasant walk in the garden would be a soothing experience.
What are Kanakakkunnu Palacetimings?
Visitors Timing– 10 AM to 5 PM
Entry Fee– 0
Weekly Holiday– Monday
Travancore's history situated in the heart of the city
ALSO SEE – Thiruvananthapuram Tourism- Tips to plan your trip
Anyone visiting Trivandrum should not miss out on a trip to
kanakakunnu palace Trivandrum,
this mesmerizing structure standing in all its glory right at the heart of this city. Especially if you are a lover of sunsets: as the place lights up with the brightest hues of orange at dusk. The red walls and pristine white marbles come alive as the sky gives way to the arrival of darkness: it is a breath-taking beauty to behold!
Kanakakunnu Palace – Some Fun Facts
Travancore royal family used Kanakakkunnu Palace to entertain guests and serve nonvegetarian food as the royal family was vegetarian
Kanakakkunnu Palace is the first digital garden in India and any of the plants in the palace garden can be scanned using a QR Code scanner to get details like botanical character, species, nativity, distribution including the flowering period over the 21 acres of land
An all India Dance Festival (October to March) is organized by the Department of Tourism at Kanakakkunnu Palace every year
Exquisite pieces of royal furniture and Massive crystal chandeliers can be seen inside the palace giving a glimpse of the luxurious life of a royal family