Guruvayoor temple is one of the holiest and oldest temples in South India is over 5500 years old and is in Guruvayoor, Kerala. The temple's presiding deity is Lord Guruvayoorappan (Lord Krishna) an avatar of Lord Vishnu. Lord Guruvayoor is also called Unnikrishnan. Guruvayoorappan is a form of Vishnu worshipped mainly in Kerela.
The term Guruvayoor is derived from Guru (teacher of the gods) and Vayu (wind god). Guruvayoor temple is an important pilgrimage for Krishna devotees and is called Southern Dwarka or Dakshina Dwarka. Guruvayoorappan is the presiding deity of Guruvayoor temple, who is being worshiped as Shri Krishna in His child form (Balagopalan)
The idol of Lord Guru has four arms with four weapons – conch, Sudarshana Charka, mace, and lotus with Tulasi or Basil Garland and a pearl necklace. The idol of Lord Unnikrishnan Guruvayoor is 4 feet tall and made with a unique mixture called Padala Anjanam. Locals believe the idol has healing properties. Priests distribute the water used from Ambishekam (bathing the idol) ceremony for healing purposes.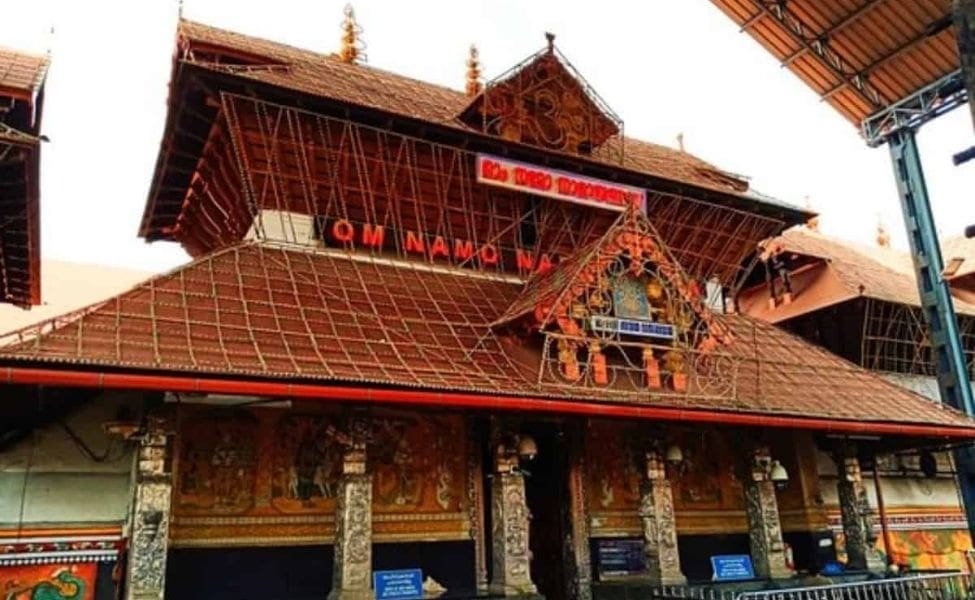 Over 56 elephants are live in the Punnathar Kotta or elephant yard in the temple premises. Visiting the elephant yard is a unique experience.
The Guruvayoor temple is an auspicious venue for marriages. During the wedding season, over 200 weddings take place on the premises. Booking is available from the temple website.
Also see, Top 17 Famous Temples in Kerala
The architecture of the Guruvayoor Temple
Guruvayoor temple has a typical Kerala Architecture that follows Vastu traditions. The temple walls have beautiful murals and intricate carvings. According to legends, Lord Vishwakarma designed the magnificent temple. The temple is east-facing. It has two Gopugams – one facing towards the east (Kizhakkenada) and one facing towards the west (Paringjarenada). Shrines of Lord Ganesha, Lord Aiyappa, and Bhagavathi are also in the temple.
The Chuttambham is a gold platted flag mast called dhwajastabham, which is 33.5 meters high. The dipastambham or the pillar-of-lamp looks beautiful when lit in the evening.
How to reach Guruvayoor Temple?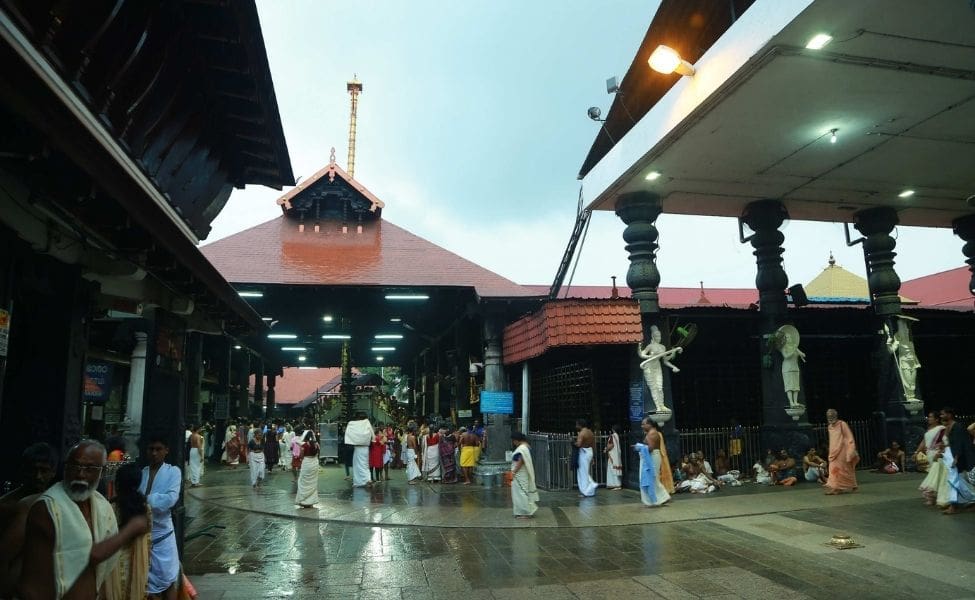 You can reach Guruvayoor temple by road, air, or train.
The nearest airport is Cochin International Airport is 87 km from the temple. The airport has excellent domestic connectivity. Cabs are available outside the airport.
ALSO SEE- Best time to visit Kerala
Guruvayoor town has a small railway station with trains from some cities in South India. Thrissur Railway Station is a major railway station and is 28 km from Guruvayoor with trains to every major city in India.
You can book Kerala State Transport Corporation (KRTC) buses. KRTC has an excellent network of buses, and you can get buses from cities and towns across Kerala. KRTC operates buses to major cities in Tamil Nadu and Karnataka.
Guruvayoor Temple Timings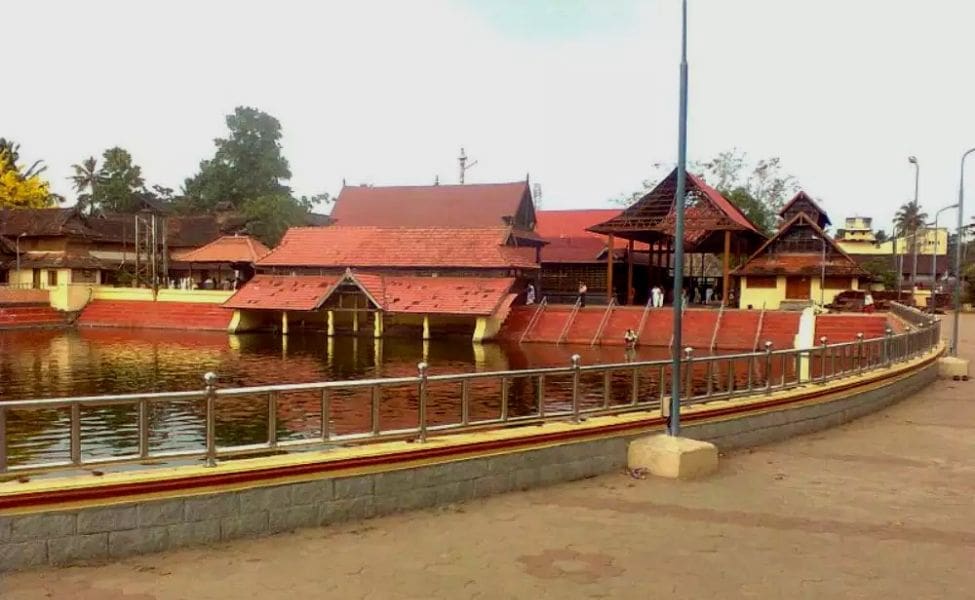 The temple door opens at 3.00 AM
Nirmala: 3:00 AM to 3:30 AM
Oilabhishekam, Vakacharthu, Sankhabhishekam: 3:20 AM to 3:30 AM
Malar Nivedyam, Alankaram: 3:30 AM to 4:15 AM
Usha Nivedyam: 4:15 AM to 4:30 AM
Ethirettu Pooja followed by Usha Pooja: 4:30 AM to 6:15 AM
Seeveli, Palabhishekam, Navakabhishekam, Pantheeradi Nivedyam, and Pooja: 7:15 AM to 9:00 AM
Ucha Pooja: 11:30 AM to 12.30 PM (the noon pooja)
The temple is closed between 1.30 PM and 4.30 PM
Seeveli: 4:30 PM to 5:00 PM
Deeparadhana: 6:00 PM to 6:45 PM
Athazha Pooja Nivedyam: 7:30 PM to 7:45 PM
Athazha Pooja: 7:45 PM to 8:15 PM
Athazha Seeveli: 8:45 PM to 9:00 PM
Thrippuka, Olavayana: 9:00 PM to 9:15 PM
The Temple closes: 9:15 PM
Major festivals celebrated at Guruvayur Temple
Guruvayur Temple celebrates several festivals with great pomp and joy.
Mandala Pooja begins on the first day of the Malayam month Vrishchikam. Devotees flock to visit Lord Ayyappa Shrine at Sabrimala during this auspicious period. Many who visit Sabrimala stop by the Guruvayur Temple. The temple offers a special Abhishekam during these 41 days.
Saraswathy Pooja is celebrated on the last three days of the Navarathri festival. Goddess Saraswathy is the goddess of learning and fine arts. On the last day, children can start learning to read or write or training for various traditional dance and martial arts.
Thiruvonam is celebrated during Chingam (August – September), devotees throng to the temple, in large numbers offering bananas to the elephants of Guruvayoor Devasoom. On Thirvonam day, the temple offers an elaborate Onam feast.
Ashtami Rohini is celebrated during Chingam is the birthday of Lord Krishna. They decorate the entire temple with flowers and lamps. The temple arranges a special feast for devotees.
Puthari or new rice is the formal beginning to use rice from the new harvest season by first offering to the temple. Devotees offer Puthari Payasam to the lord.
Vishu the New Year of Malayees and Tamilians is celebrated in Medam (mid-April). People believe the fortunes of the year will depend on the objects seen on the morning of Vishu. For this purpose, Kani (omen) of yellow flowers, betel nuts, rice, gold coins, etc. are displayed in front of Lord Guruvayor on Vishu morning. Crowds stay overnight in the temple courtyard.
Kucheladinam is the first Wednesday of the month of Dhanu (December). According to legend, an ardent devotee offered Lord Krishna, Avil in return for eternal bliss and material property. Avil is offered in the temple on this day.
Samkramam – Samkramam Sandhyas is an auspicious occasion is observed on the eve of each Malayam month.
Guruvayoor Temple Online Booking
Devotees can visit the Guruvayoor after doing online booking. Up to 600 people who have made advance online bookings will be allowed one day in the temple. Visiting hours are from 9.30 am to 1.30 pm. . The Virtual Queue system allows devotees to get the darshan of the Lord. The online booking has to be done in the website -https://guruvayurdevaswom.in/ and not through any agent
Important Tips for visiting Guruvayoor Temple
Only Hindus can enter the temple.
Guruvayoor Temple has a strict dress code, and you must wear traditional Indian attire. Men can wear a Mundu/Dhoti/Visti and should not wear shirts or vests, while women can wear saree or salwar kameez. Boys can wear shorts and girls can wear long skirts and blouses.
Remember to keep your footwear outside the temple and keep your head covered.
Be patient darshan takes 5 to 6 hours. If you want to skip the long queue you can pay and opt for a VIP darshan.
Photography inside the temple is prohibited. Do not carry mobiles, cameras, and electronic equipment in the temple premises.
Leather products are not allowed inside the temple.
Guruvayoor temple offers online booking for darshan or prasadam or pujas for devotees at their website.