The COVID-19 pandemic has taken a heavy toll on the bodies and minds of folks all over the world. Along with increased stress levels, mental fatigue has overwhelmed most people, and taking a well-deserved holiday at some of the best 5 star hotels in Munnar must be on the bucket list of most holidaymakers. What better place to escape to than "God's Own Country" – Kerala.
You might be wondering: Why Kerala? The answer is, with its lush and spellbinding landscape, waterways, and beaches Kerala is a must-visit place for tourists. The incredible natural beauty combined with exceptional hospitality has made the state one of the most sought-after holiday spots on the planet. When it comes to Kerala, no holiday can be complete without visiting the beautiful hill station of Munnar, which is famous for its rich plantation.
Here is the deal: If serenity and a peaceful location are what you seek, Munnar in Kerala is the ideal answer to all your wishes! Famed for its lush verdant landscape, rich with turquoise lakes and a network of waterways, Munnar is a true haven for nature lovers.
Kerala is between the Lakshadweep Sea and the Western Ghats with the adjoining Arabian Sea, all of which enhance the physical magnificence of the land. This is the reason that Kerala draws tourists all over the year.  
Other than its stunning background and a huge list of places to visit, Munnar also boasts of some of the best 5 star hotels in Munnar, which will make your stay worthwhile. These hotels with all the modern amenities are an attraction in themselves and you will surely have a comfortable stay in them. Read on to know about the best 5 star hotels in Munnar.
Best 5 star hotels in Munnar –
Elixir Hills
Those visiting Munnar and looking for a luxurious resort hotel will find the Marari Elixir Hills the perfect choice. The whole hotel is situated within a blanket of a rainforest, which is home to a wide variety of flora and fauna. The private waterfall within the hotel adds to the beauty of the place and you get an opportunity to spot various birds and wildlife around the hotel. Those looking for some activities can head to the game room of the hotel and enjoy games like foosball and table tennis. Want to know the best part? There is a separate play area for kids as well.
The place also offers sauna and spa sessions, which will help you relax and distress. Visitors also get to practice yoga and do other activities like music classes, garden tours, and a swimming pool to chill out. Because of its verdant location, it is one of the best 5 star hotels in Kerala, which is best for nature-based activities like spotting sea creatures and bird watching.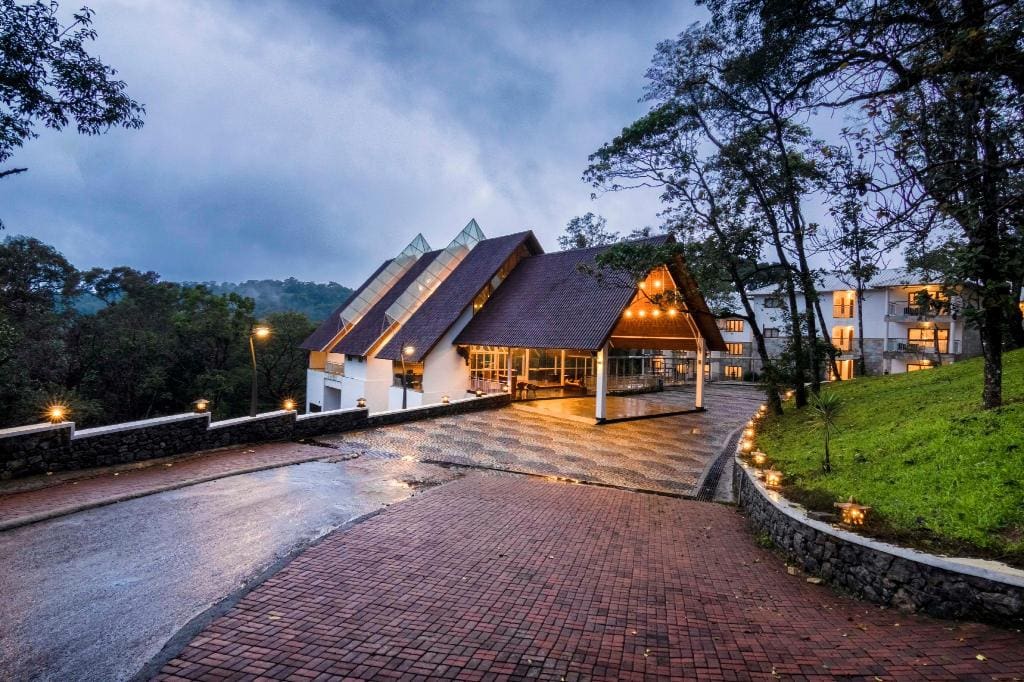 Amber Dale Luxury Hotel and Spa
The hotel is a comfortable nature retreat set in the peaceful highlands of Munnar. Situated at a sea level of 1532 meters, the hotel will give you a memorable experience of the mountains, sweeping meadows, and meandering green hills. Guests can use the spa services of the hotel and take a relaxing massage and other spa treatments. The hotel is also kids friendly and has a kids' play area and also offers childcare facilities. Visitors can also enjoy various indoor games in the hotel, thus, even if you plan to stay indoors, it surely will be quite entertaining. However, if you are an adventure freak, you can enjoy various tours, treks and can even cycle around in the beautiful atmosphere.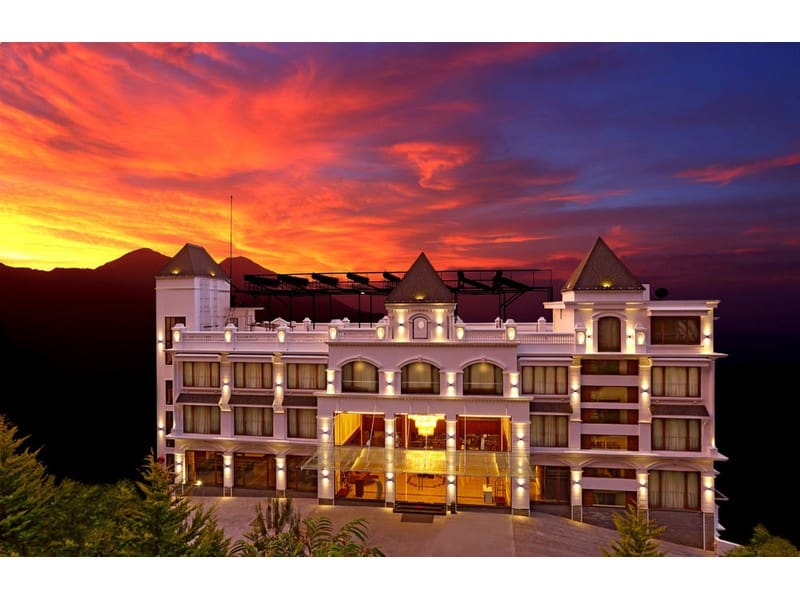 Fragrant Nature Munnar 
Conveniently located in a prime location, Fragrant Nature Munnar is also one of the best 5 star hotels in Kerala that is perfect for relaxation. Its luxurious surroundings and convenient location from the main city hotspots make it a fine choice to stay on holiday. The hotel is designed similar to local planter bungalows with a fireplace in every room. The restaurant of the hotel boasts of offering different types of North/South Indian & Arab delicacies, which keeps the guests asking for more.
The hotel with its Business Center and Conference facilities is perfect for professionals who can not only use the high-speed wi-fi to work from the beautiful place but various conferences and meetings can also be held here. If you are overly health conscious then you can even use the gym facility to keep yourself fit even when on holidays.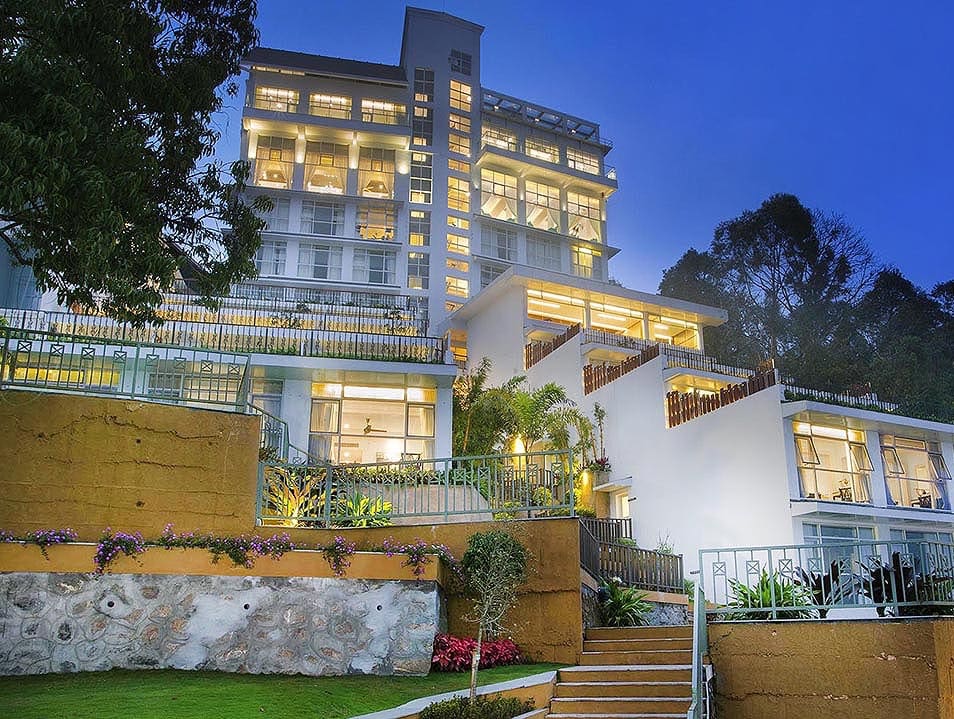 Tea County 
The hotel is popular for business conferences and its biggest benefit is that it is easily accessible. Amenities include a library, broadband Internet, and a 24-hour business center. If you are looking for a waterfront location to stay at, it is an ideal choice with free valet parking and a paid airport shuttle service. The place also boasts of a nightclub, which is perfect as an entertainment source. The hotel is nestled right in the middle of two hills and offers a picturesque background.
As one of the best 5 star hotels in Kerala, the place is also popular among honeymooners who want to spend their holidays in the lap of nature. Visitors can even take part in adventure sports and even get to witness some wild animals near the place.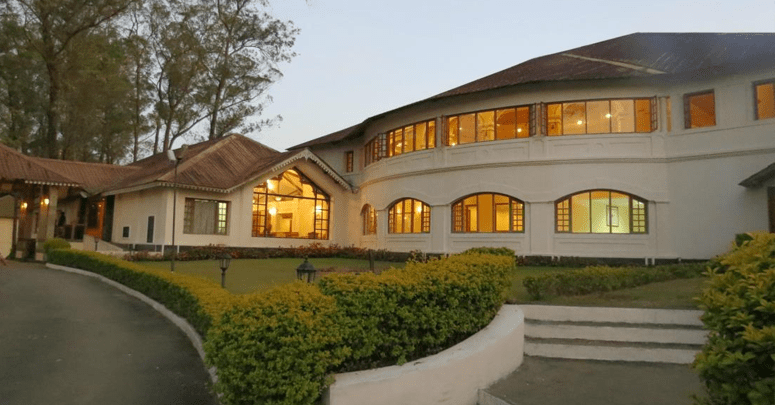 Parakkat Nature Resorts
A magnificent blend of architecture and art, hotels do not come any better than this in terms of location! A gem on its own with the best of luxury makes it a very impressive hotel to stay. The place exudes artistic beauty in every way and here you will see luxury meet tranquillity. Art is integral to the culture of the state and no place is it better exemplified than this place, which is one of the best 5 star hotels in Kerala. The personalized experience and the beauty and glamour make the hotel a great choice for guests. Some places that you must visit near the hotel are echo point, Attukad waterfalls, Pothamedu View Point, and much more.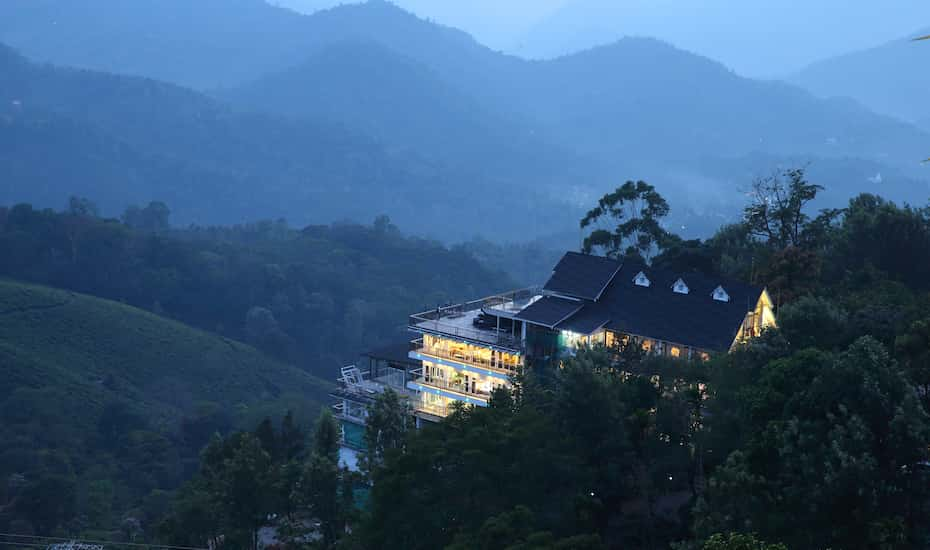 Chandy's Windy Woods
A short drive from plantation town Munnar, the hotel is an idyllic waterfront property. It hosts conferences and events and amenities include laundry/dry cleaning, complimentary newspapers, and express check-in and check-out. There is a paid 24/7 airport shuttle service with a railway station pick-up service. Not long away from the plantation town of Munnar, is a baronial building set on a hill slant. The interiors of the hotel are elegant and you can find nature-inspired graphic motifs on the walls. The hotel has an ethnic-themed coffee shop, which gives the feel of sitting in ancient villages.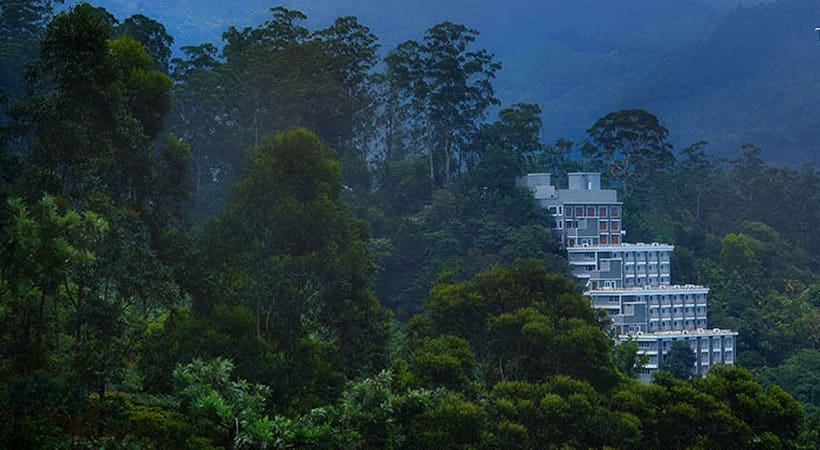 The Fog Resort & Spa
As one of the best 5 star hotels in Kerala, the place has an old-world charm. A delight for nature lovers the hotel has a coconut grove backdrop and is surrounded by incredible natural beauty. All the rooms, suites, and villas feature a traditional Kerala touch in their design. The rooms of the hotel have been wonderfully designed using the best of everything, be it furniture, linen, as well as other amenities.
Guests looking to relax will find the best of fine dining, wellness centers, luxury pools, and nature trails to help them chill out at one of the best 5 star hotels in Munnar. There are plenty of water-based activities for adventure lovers. Near the hotel, you can visit various places like Tata Tea Museum, Pothamedu View Point, Attukad Waterfalls, and much more.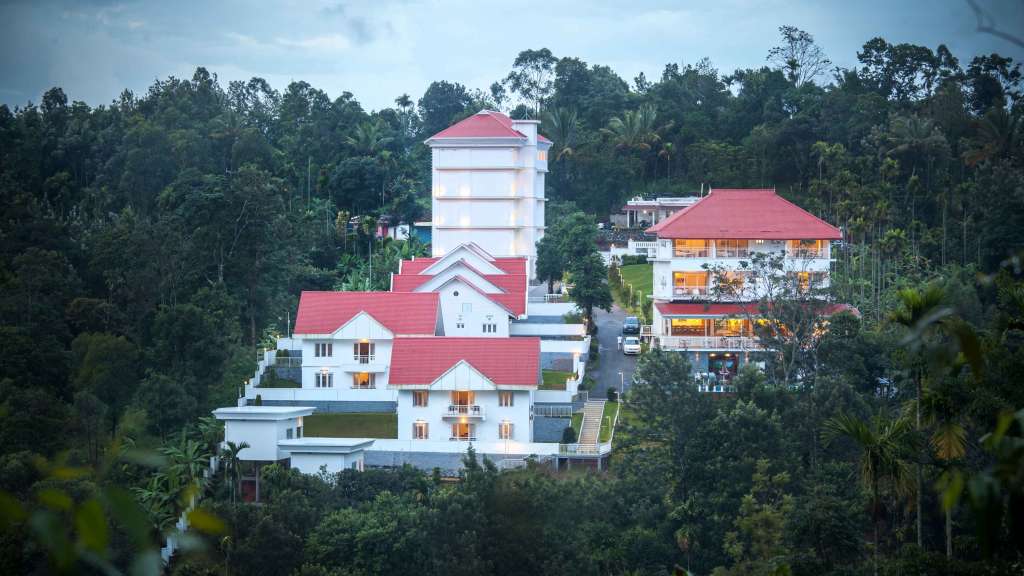 ALSO SEE Best Time To Visit Munnar
Spice Tree Resort
If you are looking for a top-class 5-star hotel at the heart of Munnar, look no further. Set in the picturesque heartland between the evergreen Kannan Devan Hills and Bison Valley Hills, the hotel is an exclusive mountain retreat. Amenities included are express check-in and check-out services and a car/limo service with plenty more.
There is free valet parking with the option for guests to use the paid 24/7 airport shuttle service. Some activities that you can enjoy in the hotel are Yoga & Meditation, Plantation Walk, Hiking, Biking, and much more.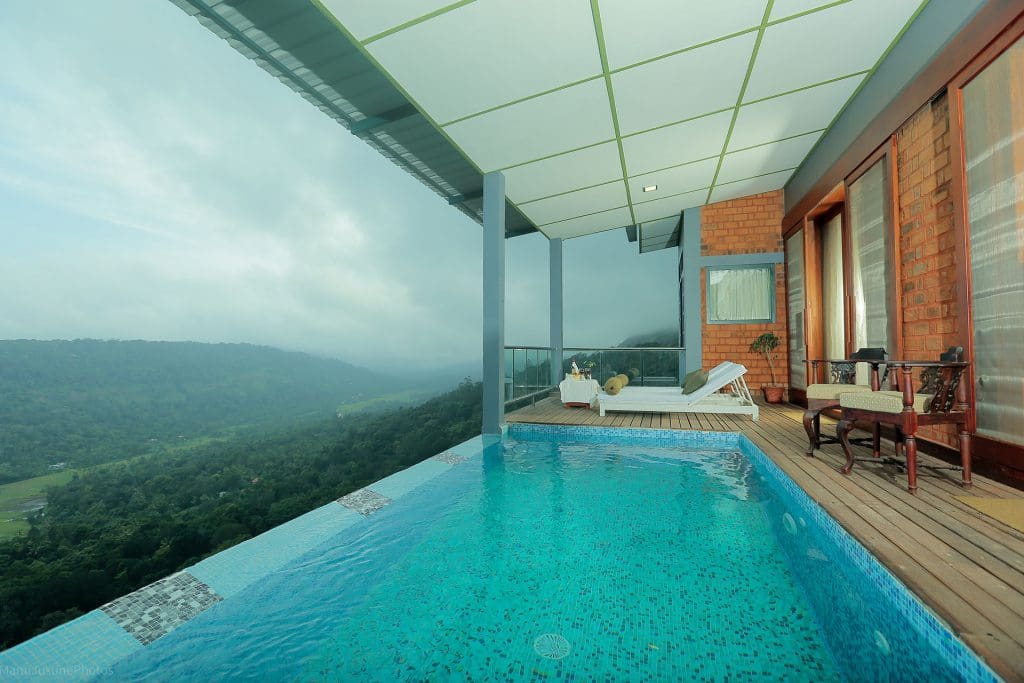 Broad bean resort and spa
In this hotel, visitors can spend their time having long plantation walks, bird watching, prolific spa treatments, and fine dining. Known for its excellent lounges and restaurants it also houses a Wellness Spa and A traditional Ayurveda Treatment Center. Visitors can choose to feast on the finest restaurant where they can get everything from healthy, traditional breakfasts, to extravagant, exotic dinners. To give a supreme sense of relief, the hotel offers its guests a lot of comforts and lavish services. The hotel has two swimming pools, a gym, a conference room, and many other facilities.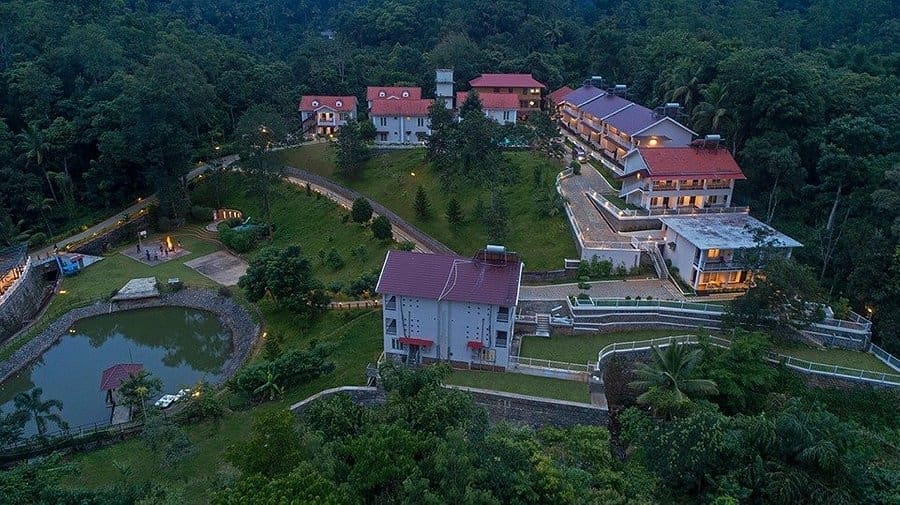 Mesmerized much? Do not wait any longer as the best 5 star hotels in Munnar Kerala are waiting for you. There is no doubt about it that Kerala is a beautiful place and if you choose to stay in these luxurious hotels then your stay is going to be much better. With many facilities offered by the hotels given in the list, even staying in can be fun. However, if you choose to meet your adventurous side then you can do various activities, many of which are provided by the hotel itself.