Volunteering Vacations in Kerala is the top activity that adds purpose for the tourist to travel. Kerala enjoys unique geographical features, making it the number one tourist destination in Asia. The equable climate, long shorelines, tranquil stretches of emerald backwaters, waterfalls and lush hills and exotic wildlife are combined with magical festivals and exotic cuisines which will offer you a unique, once in a lifetime experience when you are planning to do a volunteering vacation in Kerala.
Volunteering vacation in Kerala is a great way to add purpose to your travel, enabling you to be of service to a community while gaining an immersive cultural experience.
Weaving some service into your Kerala vacation, not only benefits the communities you serve but the act of volunteering also alleviates stress and increases happiness.
If you are a foreigner who is looking for a vacation that includes volunteering for a charitable cause in India then Kerala can be an ideal place that can offer a good vacation along with a volunteering opportunity. Volunteering Vacations in Kerala provide multiple options, starting from easier opportunities of clearing the litter in local wildlife areas to teaching and working in hospitals offering medical aid in Kerala. Most of our volunteering vacations are more of short term, intense volunteer projects along with sightseeing options.
Volunteering in India has so many different dimensions and areas where you can offer your expertise or a simple helping hand. Arts and childcare, orphanage work, teaching or internships and healthcare projects are just a few examples of the vast programmes on offer in Kerala
We started this by operating a houseboat in Kerala from which the revenue went to the children of jail inmates in an orphanage and then we got engrossed in supporting certain orphanages in Kerala and helping them to improve their operations, financially supporting the children and girls for their weddings.
The experience of volunteering vacation in Kerala is truly transformative, can add to your understanding of the world, and even change the course of your future.
Volunteering Vacations in Kerala- What is available?
We help tourists who would like to visit India to live with diverse communities and volunteer our services when they are on a long holiday or vacation.
You can pair your passion for exploring the world with a volunteer Kerala vacation immersing yourself in culture and being a part of authentic, worthwhile experiences.
We had some of our guests who spent their days in a home for orphans and vulnerable children, teaching English and playing cricket with the kids. We had some tourists who volunteered at a leprosy colony, volunteered to teach English and Computer in rural schools and so on.
Volunteering during Kerala vacation will help you connect with people around the world and add to causes you are passionate about. And every volunteering activity during your Kerala vacation gives you the chance to make an impact that will last into the future.
Help Children with Creative Arts in Kerala.
If you're full to the brim with enthusiasm, energy and creative ideas then helping children is for you. Involving fun with glitter, laughs, paint and days working with lively children will be the perfect scheme for you. Through fun and creative activities, the unprivileged children will have the opportunity to express themselves, explore new talents and develop their self-confidence. Depending on your interests you can work on a variety of activities with the children, from painting and drawing to music and dance, from drama and singing to storytelling and creative writing. There will always be plenty to keep you occupied!
But what will you personally get out of a volunteering vacation in Kerala? The number one skill you will learn is caring for underprivileged children. Not only that, you will experience a new culture through the local people, local cooking lessons, and traditional Kathakali dance performances will be shown to you whilst you explore the amazing local environment. If you wish to take up a profession in the arts category, this would be a fantastic experience to have on your CV.
Supporting a Local Orphanage
If you get a buzz out of providing children with the necessary skills to become successful later on in their life, then volunteering alongside other teachers who support orphans would be the perfect opportunity for you. Classes are in high demand, making it hard for teachers to provide the necessary support for their students. Volunteers, such as you, would help to improve the grades and attendance of the students while making a valuable contribution to the school and the orphans.
Volunteering Vacation in a Local Orphanage will benefit from working with children of all ages and backgrounds. If you're planning on becoming a teacher a little closer to home, the skills and experiences from this volunteering programme would be eye-catching for any prospective employer, putting you in a prime position for a successful teaching career.
So, grab the opportunity to experience God's Own Country on a much deeper level by opting for a volunteering Kerala vacation.
Volunteering Vacations in Kerala-How do we arrange?
When you request us for a volunteering vacation opportunity, we contact various NGOs in Kerala to identify an opportunity for you and would strive to ensure that you get a memorable opportunity where you can have fun as well as learning. You can come to India as a tourist, live like a local with the locals, volunteer at the grassroots, can visit the places you would like to visit during your stay and most importantly leave India with the satisfaction to have done something on your own to make it a better place.
Based on our past experiences in arranging volunteering vacations we would suggest that you should opt for a volunteering vacation rather than a normal Kerala tour package if you have more than one month. Volunteering Vacations in Kerala is available in Kochi, Trivandrum and other major tourist destinations.
ALSO SEE- Kerala Tour Packages
Some things to consider for your volunteering vacation in Kerala
We would suggest anyone who is looking for a volunteering vacation choose a cause that is close to your heart and if India is your dream holiday destination, then Kerala is the ideal place to do a volunteering vacation. You can also use this opportunity to upgrade your skills and come out of your comfort zone when you deal with uncertainties and new territories and people.
Volunteering Opportunities in Kerala are available for medical aid, education, computer programming/ creation of websites for NGOs, health and nutrition, working in tribal villages, sustainable development, working in orphanages, hospitals and schools and economic development. Some of our guests have ended up sponsoring a few places or children where they have volunteered as well.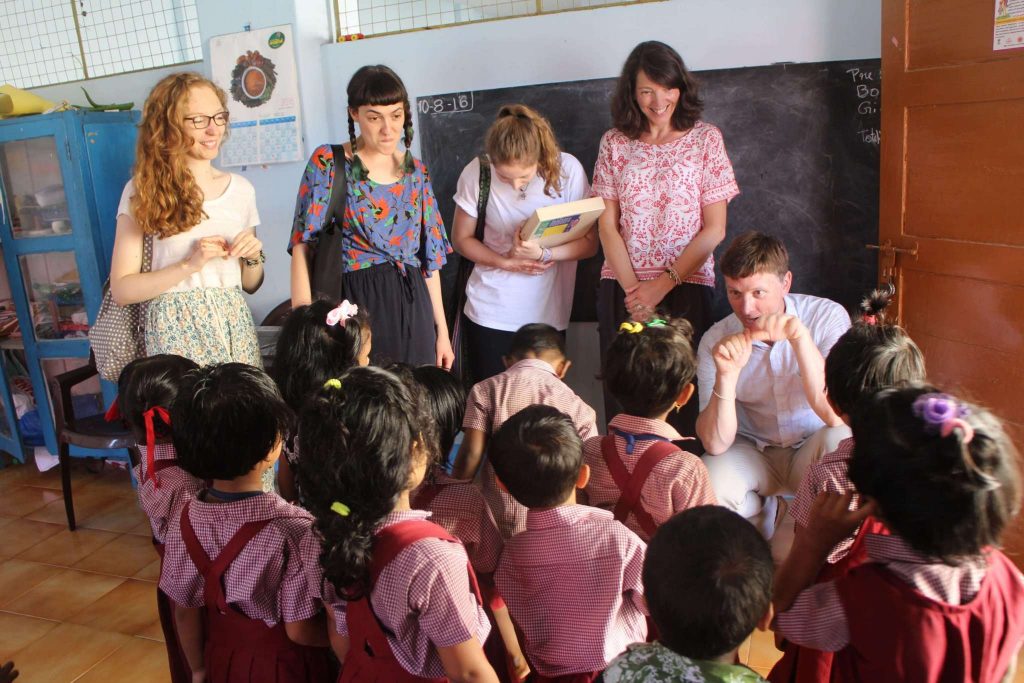 How to proceed if you are interested in volunteering vacations in Kerala
We fully support these activities as they contribute to improving people's lives and development goals as well as breeding a sense of togetherness with volunteer and volunteering seekers. If you are interested in hearing more about opportunities for volunteering vacations in Kerala, please write to us at info@irisholidays.com with your profile. If you have more questions on what you would like to do and what opportunities are available in Kerala for your profile, we will be happy to help
We offer some free services like complimentary trips and some packages for tourists who are seeking volunteering vacation opportunities in addition to matching them with relevant opportunities at charities we support once the guests share their profiles.
If you want to plan a volunteering vacation in Kerala, please refer to this article on How to Plan a Volunteering Vacation
Please note that we offer volunteering vacation opportunities only from April to September every year.
Plan your trip to Kerala with us and make your Kerala vacation more meaningful by adding a volunteering stint to your holidays.