We are extremely happy to announce that Iris Holidays is the winner of TripAdvisor Certificate of Excellence 2015. and we have won TripAdvisor Certificate of Excellence in 2014 as well.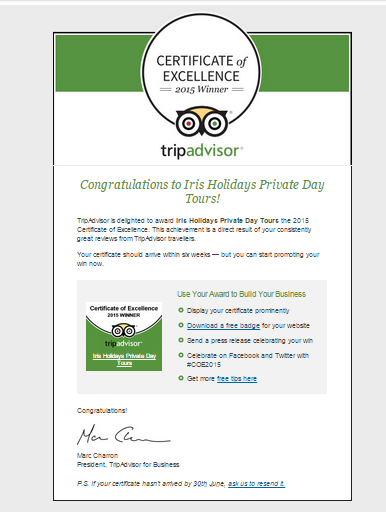 TripAdvisor Certificate of Excellence is granted only to businesses that continually accomplish excellent or outstanding visitor reviews on TripAdvisor, and the same criterion is extended to hospitality businesses globally. The award, now in its fifth year, is given only to businesses that continually accomplish excellent visitor reviews.
The award is based on the number of reviews obtained within the last 12 months. Winners of the Certificate of Excellence signify the top 10 percent of companies detailed on the world's biggest travel and online discovery website and to be eligible for a the Certificate of Excellence, tour, hospitality and leisure companies must sustain an overall ranking of four or greater, out of a possible five, as analyzed by visitors consistently.
TripAdvisor uses as exclusive algorithm to choose the award and considers review scores when choosing Certificate of Excellence winners. Additional requirements include the period of a business and its reputation on the TripAdvisor website.Establishments granted the Certificate of Excellence are from all over the world and signify the highest echelons of companies operating the hospitality business
Please find come excerpts from our reviews on TripAdvisor below which was the primary reason for winning TripAdvisor Certificate of Excellence 2015.
The overall Kerala experience was awesome and most memorable Thanks a lot for Iris holidays- Review on 30 April, 2015
Never had any problem with this tour. Very punctual and problem free. Well explained and a flexible tour choices. The guide/driver was friendly and adjusted to our trip plans. A recommended tour agency-Review on 30 April, 2015
Let the expert to plan your trip & that was what exacatly IRIS did for us, we had a great time in Kerala. Our driver "Mr.Baburaj" was fantastic, he even bought some toys for my little one along the journey.

The tour was very well planned and manged and we have decided to be back again to this wonderful place – Review on 30 April, 2015
Organised the tree house stay and houseboat which went perfectly. However, I would like to reserve special praise for our driver, Mr Sujith. He was outstanding. He was so knowledgabnle about the local area and showed us some great little spots away from the tourist trail as we were travelling to our destinations. If you book a trip with the guys at iris holidays, which I will be doing again,I would wholeheartedly recommend requesting Mr Sujith- Review on 8 April, 2015
The hotels/ resorts that were booked for us were great. Most were off the tourist trail, so if you want to be in the mix of it all, it's best to make it clear that is your preference. However, for us, we enjoyed being in more peaceful surroundings without being hassled to buy souvenirs- Review on 7 April 2015
All the hotels in Kerala were just great, with a special mention of Deshadan Mountain Resort in Munnar for the beautiful honeymoon bed and candlelight dinner, the tree house in Periyar with views on lion monkeys and different birds, the Palm Tree Heritage in Varkala at the beautiful beach and Over the Hill Resort in Poovar who went to buy lobsters at the fish market and cooked them to perfection. The house boat with Pickadly was beyond imagination, just fabulous- Review on 30 March 2015
We are thankful to all our guests who have reviewed us on TripAdvisor and other online media .