Trivandrum or Thiruvananthapuram is the capital of Kerala State in the south of India. It is known for its calm beaches, backwaters, hill stations, and rich culture because of which it attracts several Indian as well as foreign tourists. It is one of the cleanest and calm cities in India.
 The top ten tourist places in Trivandrum are as under:
1. Kovalam Beach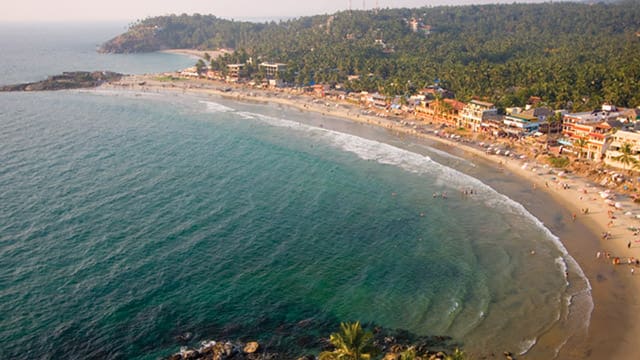 It is located at a distance of 16 km from Thiruvananthapuram Central Railway Station and about 10 km from Thiruvananthapuram International Airport. It has a long coastline with substantial palm, a lighthouse, and clear waters, which makes it the main attraction of tourists in Trivandrum.
There are three beaches separated by rocky projection in its 17 KM long coastline, known as Light House Beach, Hawah Beach, and Samudra Beach. These three beaches together make famous semi-circular Kovalam Beach.
Light House Beach is located on top of Kurumkal hillock. It is built with stones and is 118 ft in height and adds charm to the beach with its recurrent light beams during the night. Hawah Beach is a calm bay with blue water and a high rock peninsula and is one of the best tourist places in Trivandrum.
It is a very busy beach with the activities of fishermen setting out for sea. Samundra Beach is a busy beach with local fishermen plying their trade; therefore, it is not thronged by tourists.
There are several vacation options like sunbathing, herbal body toning & massage, special cultural programs, and catamaran cruising, etc. The tropical sun here is very bright and skin gets tan within minutes. Therefore, activities on the beach start late in the evening and go on till late at night.
The facilities like a budget hotel, Ayurvedic health resort, swimming pool, shopping zone, Yoga & Ayurvedic centers are provided in the beach complex.
2. Padhmanabhaswamy Temple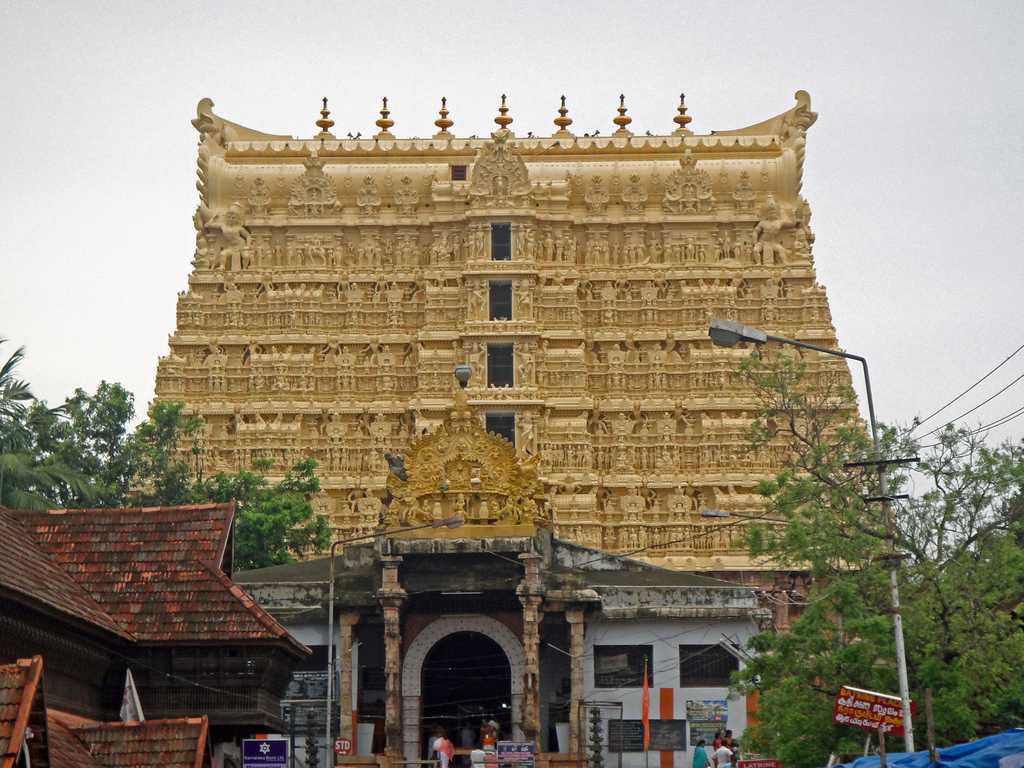 Padmanabhaswami Temple is a very famous and sacred Hindu temple located in the heart of the city and is one of the best tourist places in Trivandrum. The history of the temple dates back to the 8th century and it was renovated by Marthanda Varma the king of Travancore in 1750.
The foundation of the present-day gopuram was laid in 1566. It is built by the side of a tank with 100 ft 7 tier gopuram.
The temple corridor has 365-1/4 sculptured granite-stone pillars with decorative carvings. Here the deity Lord Vishnu is lying in an eternal sleep posture on the hood of a five-headed serpent. The architecture of the temple is very complex, a combination of Chera and Dravidian styles.
There is a strict dress code inside the temple; men have to wear dhoti and no shirt, while women are required to wear a saree.

There are fixed timing hours for Dharshana inside the time.
3. Shankhumugam Beach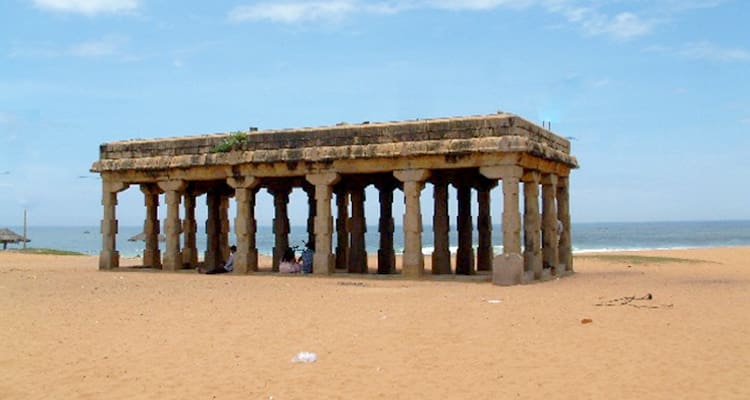 This beach is located 7 km from Thiruvananthapuram Central Railway station and a short drive from International Airport. It is one of the best tourist places in Trivandrum. People come here in the evening to view the sunset, Giant Mermaid statue, some vantage points specifically created for picnickers.
While some drop out during the day to relax and enjoy the calm breeze or to have a view of the beach. There is also an indoor recreation center and a children's park.

4. Napier Museum and Zoo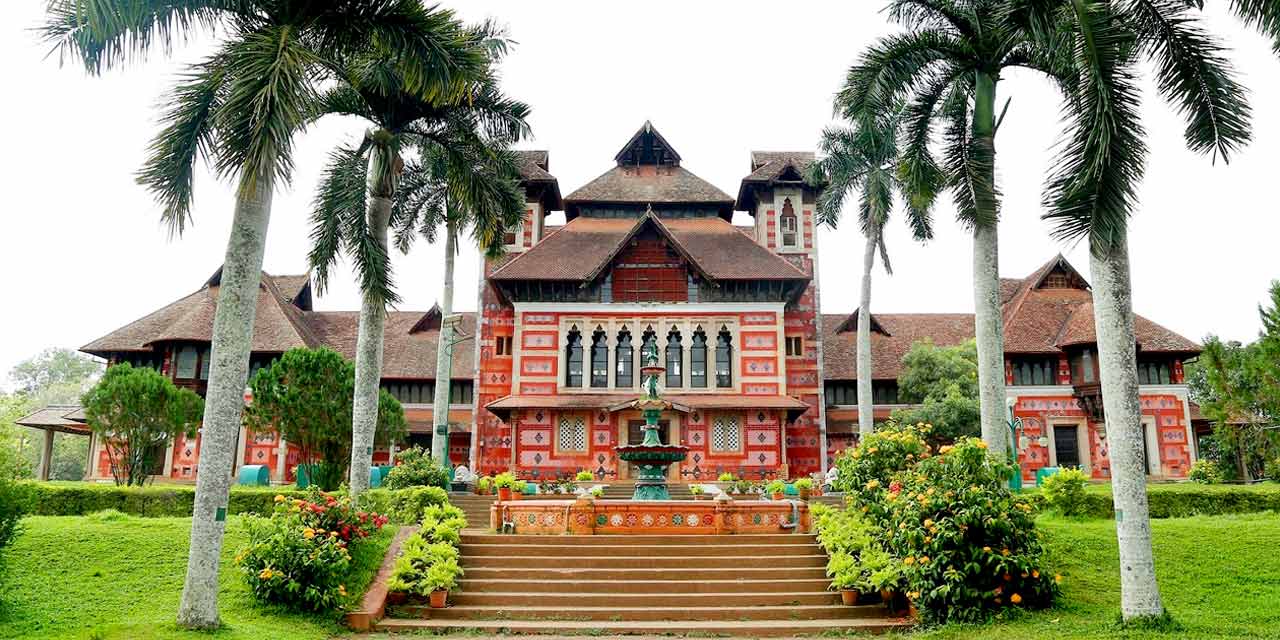 Napier Museum is located inside Trivandrum Zoo which is the oldest zoological garden in India established in 1857 on over 55 acres of land. It also contains Sree Chitra Art Gallery established in 1935 and is one of the best tourist places in Trivandrum. The entire complex is managed by the Department of Museum and Zoos of Kerala.
 It is a museum of art and history and is named after the former Governor-General of Madras Lord Napier. The architecture of the museum was designed by the consulting architect of the Madras Government. It has a unique architectural style and decoration with a supernatural roof and minarets with a natural air conditioning system.
It has unique historical and archaeological pieces. This collection includes sculptures of bronze and stone, wood and ivory carvings, lamp, textiles, life-size Kathakali figures, handicraft items, traditional musical instruments, and other collections of various dynasties of South India.
Shree Chitrhra Art Gallery displays a rare collection of paintings.

5. Agasthyakoodam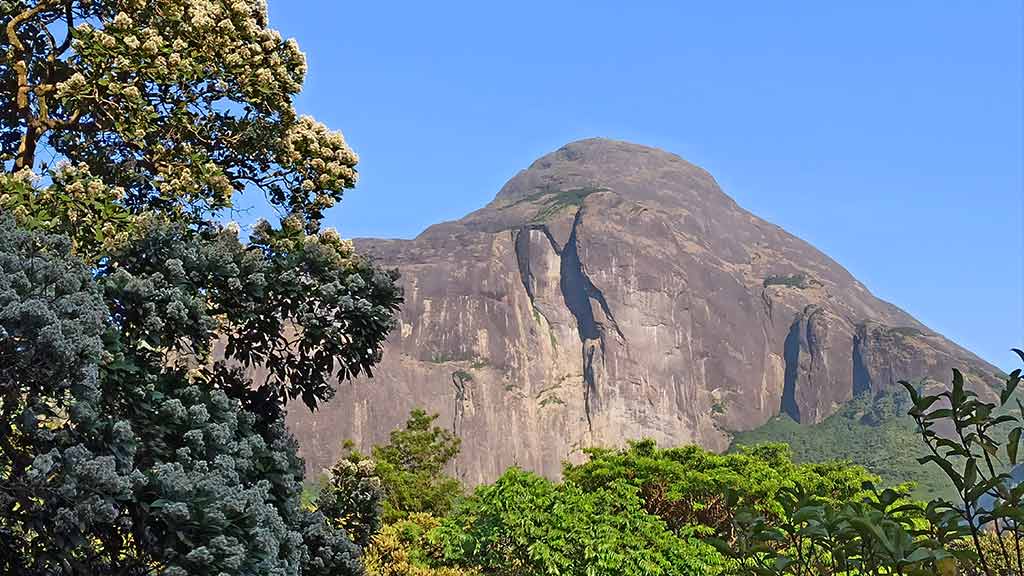 Agasthyakoodam or Agastya Mala is named after one of the Saptrishis of Hindu Puranas who is believed to still exist as an illustrious being on the mountain top is one of the best tourist places in Trivandrum. His full-size statue has been installed there and it is a famous pilgrimage place for his devotees.
The peak is open to pilgrims from January to mid-March. Agasthyakoodam is a famous hill station, home to rare herbs of high medicinal value with diverse flora and fauna and a large number of wild lives like elephants Indian Gaurs, Leopards, Tiger, Sloth Bear, Sambar Deer, etc.
Agasthyakoodam is the second highest hill station in Kerala and origin. Major rivers Thamirabarani and Karaman originate from here. The water of the Karaman river fulfills the needs of the city.
It is a pleasure point for bird watchers and tourists can also come across almost fifty types of reptiles and more than a hundred types of butterflies.

The vehicle can go up to Bonacaud which is 50 km from Trivandrum. Trekking 28 Kms is the only means to reach Agasthyakoodam, which takes two days trekking through the forest. Trekking passes are issued by Kerala Forest Department from their office in Thiruvananthapuram. 
6. Poovar Island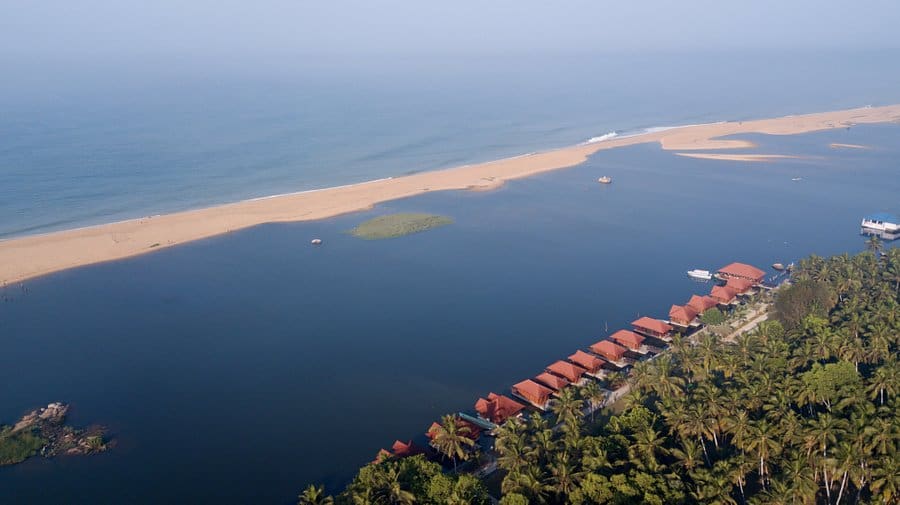 Poovar the beautiful village on the southern tip of Trivandrum is a fishing village. In earlier times it was a trading port for spice, timber, sandal, and ivory. The only means to reach Poovar Island is through the water. It is an unexplored island surrounded by calm and quiet backwaters and sea.
Poovar Island is situated at a point where the river and lake meet the grand Arabian sea. This meeting point of river, lake, and ocean present an impressive look. The combination of backwaters and land has added to its beauty and made it a major attraction for tourists.
The area is full of well-preserved local flora, various interesting flowers, various species of birds, banana and coconut groves.
Poovar beach with golden sand and is loved by those who look for peaceful moments. Beach activities and water sports have not developed here because of the fishing population and their activities, the beach is not used for sunbathing spots or swimming as the currents are quite strong.
Poovar is located at a distance of around 30 Kms from Trivandram and can be reached by road in 45 minutes.
The best time to visit Poovar is between October and February as the temperature during this time is comfortable.

7. Ponmudi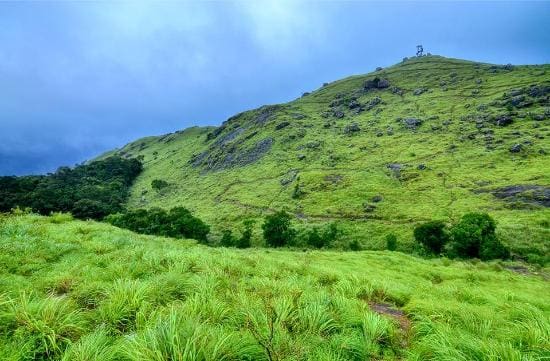 Ponmudi is another hill station in the neighborhood of the main city Trivandrum. This hill station is situated at a distance of 55 km from Trivandrum and is one of the major tourist places in Trivandrum.
It is connected with Trivandrum by road and the last stretch of 18 km of the road presents a picturesque view through mountains, tea garden slopes, rare flora, and fauna.
Traveling on this stretch is a thrilling experience as the driver has to make 22 sharp turns on hairpin turns. En route Ponmudi one can stop over to have a view of the Kallar River flowing parallel to the road in the opposite direction with attractive Meenmutty waterfalls a little distance ahead.
In between, one can also have a view of lush green forests full of tropical vegetation from the eco point. The hill station has excellent trekking tracks. The other attractions near Ponmudi are Golden valley, Dear Park, Ponmudi falls, wood and stone cottages.
The best time to visit Ponmudi is in winter between December to March.

8. Varkala Beach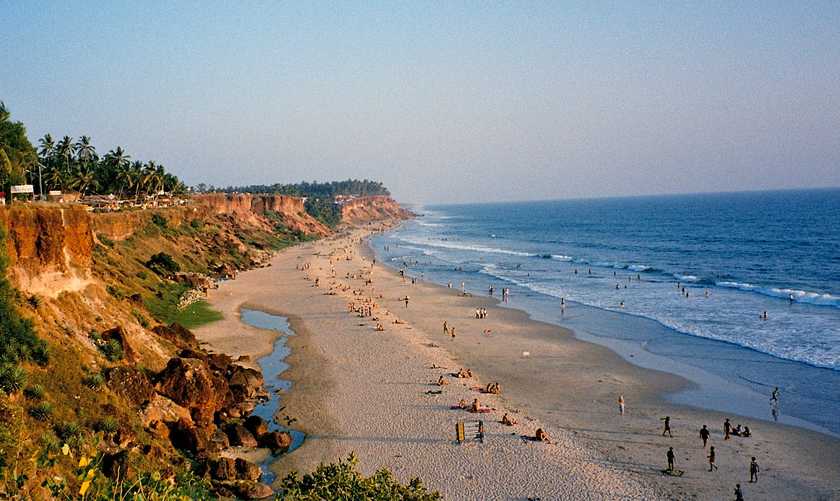 Varkala is a coastal town situated at a distance of 40 km from Trivandrum. The main attractions in Varkala town are Varkala Beach or Papanasam Beach, 2000-year-old Janardana Swami Temple an important vaishnavaite shrine in India, and Sivagiri Mutt established in the memory of reformer Sree Narayan Guru who is buried here. This is one of the best tourist places in Trivandrum.
Varkala Beach or Papanasam Beach is at a distance of 10 km from Varkala town and is the only beach in South Kerala having Cenozoic muddy cliff formations adjacent to the Arabian Sea known as Varkala formation and declared as a geological monument by the Geological Survey of India.
It is very popular among the tourists for sunbathing, swimming and sunset viewing in the evenings. It is also called a black beach because of black sand which is due to the presence of Thorium-oxide in the sand. There are several beach houses and small shops on the long stretch of cliff. It is believed to have a natural spring and its water having medicinal properties.
The beach also has adventure activities such as boat riding, parasailing, jetting, and horse riding. Varkala town also has a railway station about 3 Kms from the beach.

9. Veli Tourist Village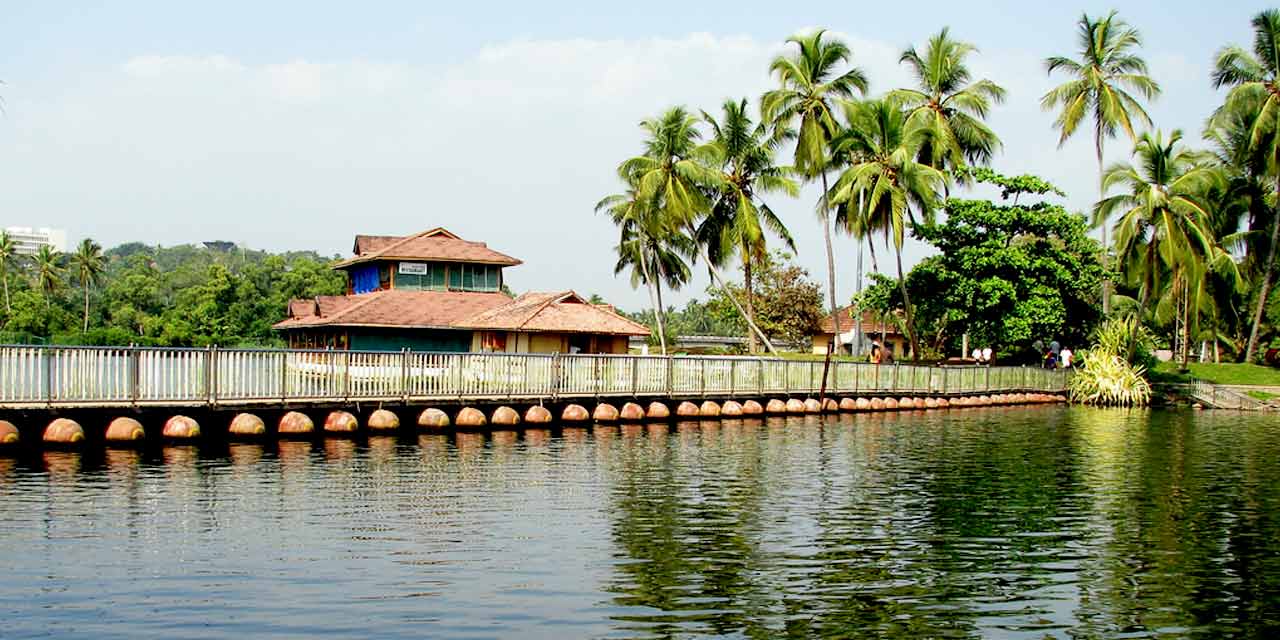 Veli tourist village is situated at the meeting point between Veli lake or Aakulam lake and the Arabian Sea and a distance of 10 km from Trivandrum.
It is a very famous destination for family picnics with a wide range of attractions such as a children's play area, boat ride in Veli Lake, horse riding, a long walkway connecting Veli Lake, and a floating restaurant serving traditional Kerala delicacies.
There are some stone sculptures made by first sculptor Kanai Kunjiraman, a collection of birds like pigeons and swans, a few ponds with fish and tortoises. A nominal entrance fee depending upon the age of the visitor is charged.
This village is open from 8.00 AM to 6.00 PM. The best time to visit is winter from November to February.

10. Neyyer Dam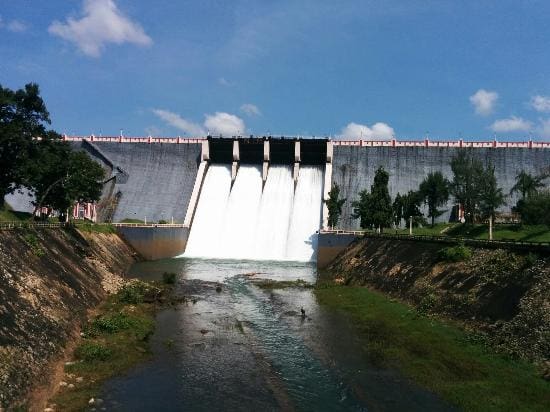 Neyyer Dam is situated at about 30 KMs from Trivandrum on the foothills of the Western Ghat across Neyyer River. The dam is a famous picnic spot providing a beautiful view of slopes, meadows, flora, and fauna. It is a part of Neyyer Wildlife Sanctuary which is a habitat for various species of wild animals.
Some of the attractions at Neyyer Dam are Yoga Centre, Crocodile Park set up for research and rehabilitation, Lion Safari Park, Dear Park, Watch Tower, and Boating.
Paid Boat rides are provided in Neyyer Dam in speed boats alongside lush green forests, one can watch Agasthyakoodam, Western Ghats, Kottampura, Kanimala, Kurisumala, and even some wild animals during the ride.
A nominal fee is charged for entry into the dam area as well as for taking part in other activities. One can reach this place by road on a bus or a Taxi. Visiting time is from 6.00 AM to 7.00 PM.
Visit Trivandrum and get ready to visit tourist places in Trivandrum!