Lalit Bekal Resort is a beautiful 5-star property that speaks of luxury and serenity. In India, the road to paradise is generally a bumpy one. And so it was when we stumbled on Bekal, a two-hour drive from Mangalore airport. Unhurried and virtually un-trodden, this North Kerala destination is mantled in an air of delicious seclusion and is an ideal spot for Kerala Honeymoon Packages. When we were there in the rains, Bekal oozed lashings of romance; there was a sense of abundant time, lazily ticking away amid lush nature. At present, the destination has just one uber-luxe hotel — The Lalit Resort and Spa to showcase its pristine pleasures.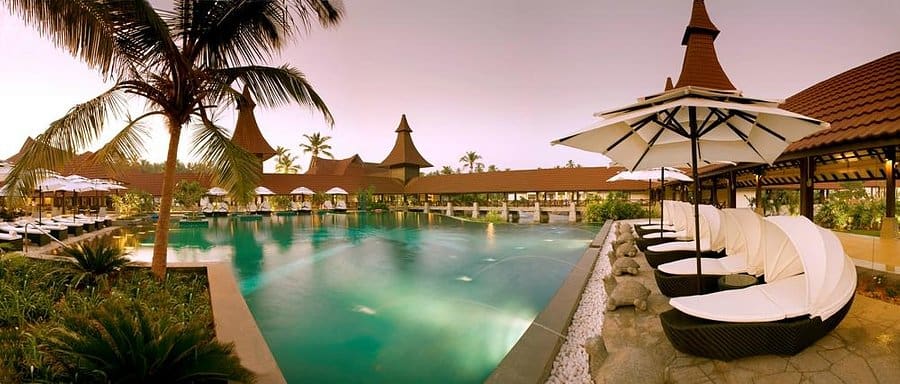 We drove into the Lalit Resort which unfolded like an arresting narrative.  The Lalit Resort & Spa Bekal covers an impressive area of 26 acres and its magnificent gardens interspersed with foothills of the river invite you to take a walk and relax. Water is a recurring motif there with lagoons (which double up as rainwater harvesting pools) sparkling amid sloping-roof villas and the Nombili river encircling it on three sides. In the distance, the sea, fringed by a skein of pearl-white sand, crashed on breakers, sounding like the cymbals of a symphony orchestra.
About Lalit Bekal Resort
Surrounded by the river Nombili and coconut palms, and appears like a luxury harbour of peace. We sipped our welcome drink — coconut water from the resort's own trees (there are reportedly 2,800), in the spacious wood-beamed lobby. We asked politely if sugar had been added for we had never tasted such sweet coconut water before. The sweetness comes from the fertile soil, we were told.
The Lalit brand of understated elegance builds on the premise that space and tranquillity are the 21st century's concept of ultimate luxury. The 37 villas spread languidly on 26 acres and all the spacious artfully decorated rooms come with private Jacuzzis and other amenities amid the encircling green. (There's even a kettuvallom or traditional houseboat for a holiday with an aquatic feel.) For a relaxed dining experience from the comfort of our room, the Lalit Bekal provided day and night in-room dining service with a multi-cuisine menu. Every morning we would wake to the chirping of birds and enjoy our morning cuppa on our private patio.
The special butler service at Bekal Lalit delivers everything you want from a perfectly ironed business suit to a last-minute travelling plan. Our personal butler who was quaintly called a "holiday host" was always at hand to take us to the Nombili Restaurant in a golf cart or to the meditation pagoda, the spa, or even the bird watching point located amid a dreamscape of rockeries and curved wood bridges, dense coconut groves, and flowers that were as colourful as a child's Christmas card.
Over the next few days, we watched Brahminy kites revel in aerial callisthenics above the resort and glittering kingfishers poised to catch the tiny fish that leapt in and out of the river; skimmed the river in a kayak and reached the sea bordered by a palm-lined beach.
The  Lalit Resort & Spa Bekal couples traditional Indian hospitality with modern service standards and the latest technology. Enjoy 24-hour attention at Bekal Lalit from friendly yet dutiful staff.
Round the year
One can vacation in Lalit Bekal any time of the year, dance in the rain Bollywood style, cuddle in the winter, enjoy the sun in summer… The Lalit Resort provides another incentive — a getaway for a spa-cum-leisure holiday. The resort's 20,000 sq.ft. Rejuve spa with 13 treatment rooms, relaxation lounge, a pool is agleam with the promise of creating a new "you."
There's state-of-the-art medical equipment, while an Ayurvedic doctor, yoga instructor, dietician and therapists, trained in Ayurveda and international spa therapies, are in attendance for guests looking to lose weight, detox, or rejuvenate. We tried the signature massage which combined the long swooping strokes of traditional Ayurveda with the deeper tones of a Swedish massage. One of the unique features of the spa at Bekal Lalit is the herbal garden laid in the shape of the human body. The Lalit Bekal allows you to enjoy holistic Ayurveda treatments in dreamlike surroundings. Soon we emerged with skin as smooth as a baby's bottom.
The Lalit Resort & Spa Bekal also has an outdoor pool with sunbeds and umbrellas for relaxation between and after treatments.
The massages, wraps, and scrubs are complemented with flavourful spa cuisine… Ever tried Caesar's salad embellished with grilled fish mantled in Kerala spices? Or the local nutritious Navara rice with Kerala fish curry presented like a work of art. We savoured delectable meals in romantic locations, under a flowing canopy near the helipad, on the houseboat, and in the gazebo of the meditation pagoda. A romantic table for two in the restaurant and even a traditional sadya (a multi-course vegetarian feast) was served on special request.
The Lalit Resort & Spa Bekal offers a range of services and amenities designed to provide comfort and convenience.
Yes, a holiday in Bekal can be multi-faceted — we adopted a beachcomber pace, indulged in the zen of doing nothing, and marvelled how the colour green has been redefined in these parts. On our last but one day we headed out of the resort for a spell of sightseeing, drove past sun-dappled woods and palm tree-etched beaches where birds called from unseen depths and the rays of a sleepy sun warmed us after a rain-lashed day.
Crocodile tale
Thirty kilometers away from the resort is the charming Ananthapuram Lake temple, a tiered roof temple seemingly adrift in the middle of a lake. Here myth, mystique, and legend intertwined, the seven idols are made of 64 Ayurvedic ingredients, the priest related. Men have to enter bare-chested and all devotees must remove their footwear. Outside the temple, it was painful to walk on pebbly terrain but we went in search of Babiya, a vegetarian crocodile with a passion for rice balls.
When its predecessor was shot dead by a British soldier in 1945, Babiya mysteriously appeared the next day, even though the dead reptile had never had a mate. Babiya did not grace us with darshan and continued to loll discreetly in the water.
The next day we left the Edensque corner of Kerala, having glimpsed a world that might never come back. As we flew back to Mumbai, we wondered if we really wanted to tell people about this one-of-a-kind haven or jealously guard the secret to ourselves!
An article cross-posted from The Hindu was published in 2011.
Plan your trip to Kerala with us and discover all Bekal has to offer by making Lalit Bekal your base.