Kerala offers dozens of spectacular experiences-make sure you check them out while driving around the state with the road map of Kerala.
Roads in Kerala are often compared to the arteries of human beings by guests who are visiting Kerala as a well connected network of roads help in fast and comfortable travel to various tourist places in Kerala like Cochin, Munnar, Alleppey, Kanyakumari, Kumarakom, Thekkady, Alleppy, Wayanad, Kovalam, etc. Kerala is very well connected with a good network of roads and the villages of Kerala are also easily accessible by good roadways and there is a planned Road Map of Kerala. The road route map of Kerala can make your road trip in Kerala, a delightful assault to the senses-the colors, the smiles, and the landscapes are bound to leave the traveler in you reeling with joy.
Drive through the well-developed road network system of Kerala that plays an important role in the economic, industrial, and commercial development of the country through the Kerala road route map.
The Kerala state highway map made the journey smooth peppered with great roads and amazing panoramas. There are eight national highways in the state of Kerala with the major highways NH 17, NH 47, and NH 49 connecting other parts of the state. There are 72 state highways in Kerala linking district headquarters and important towns within the state and connecting them with national highways or Highways of the neighboring states.
Detailed Road Map of Kerala
Learn about the internal road routes of the state which connect headquarters, important towns in the state, and the national highways through the Kerala state highway map.
The detailed Road Map of Kerala with distances between major places and shown in the below map of Kerala can be used to calculate the distance between different destinations in Kerala. If you want to get to the tourist places in Munnar from Ernakulam you can calculate the distance between Ernakulam-> Muvattupuzha -> Kothamangalam -> Munnar which is equivalent to 41+13+77 = 131 kilometers which is the distance to Munnar from Kochi.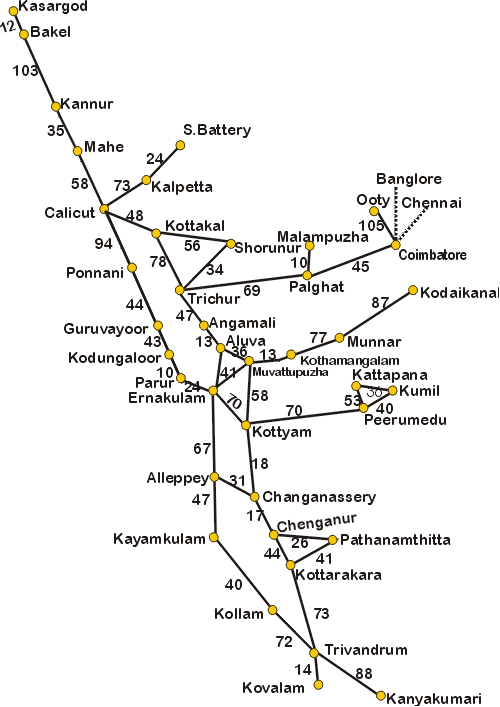 Kerala has 145,704 km of roads which consists of 4.2% of India's total roadways. The road density of Kerala is about four times the national average, reflecting the high population density of the state. India's national highway network includes the highway of Kerala-with an overall 1,524 km, which is 2.6% of the total road network in India.
Enjoy a road trip through the beautiful sceneries of Kerala through Kerala Road Route Map that facilitates easy travel in the state.