Roads in Kerala are often compared to the arteries of human beings by guests who are visiting Kerala as a well connected network of roads help in fast and comfortable travel to various tourist places in Kerala like Cochin , Munnar, Alleppey, Kanyakumari , Kumarakom, Thekkady , Alleppy , Wayanad , Kovalam etc. Kerala is very well connected with a good network of roads and the villages of Kerala are also easily accessible by good roadways and there is a planned Road Map of Kerala. There are eight national highways in the state of Kerala with the major highways NH 17, NH 47 and NH 49 connecting other parts of the state. There are 72 state highways in Kerala linking district headquarters and important towns within the state and connecting them with national highways or Highways of the neighboring states.
Detailed Road Map of Kerala
The detailed Road Map of Kerala with distances between major places and shown in the below map of Kerala which can be used to calculate the distance between different destinations in Kerala. If you want to get to the tourist places in Munnar from Ernakulam you can calculate the distance between Ernakulam-> Muvattupuzha -> Kothamangalam -> Munnar which is equivalent to 41+13+77 = 131 kilometers which is the distance to Munnar from Kochi.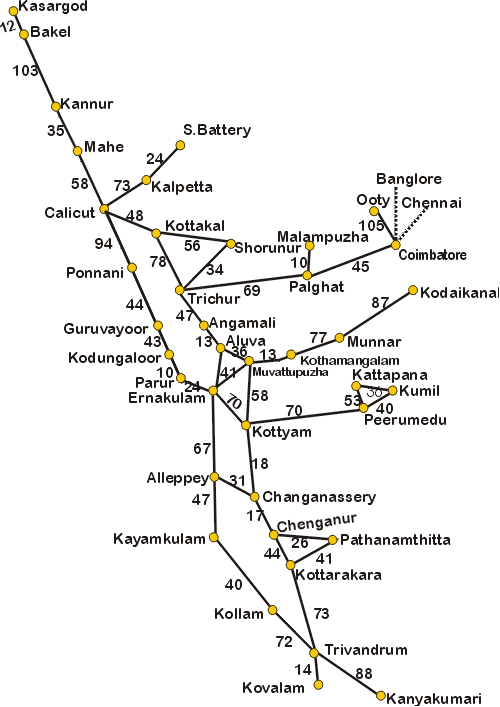 Kerala has 145,704 km of roads which consists of 4.2% of India's total roadways. Road density of Kerala is about four times the national average, reflecting the high population density of the state. India's national highway network includes the highway of Kerala-with an overall 1,524 km, which is 2.6% of the total road network in India.