Kerala is known as God's Own Country and a map of tourism destinations in Kerala like Munnar, Thekkady, Alleppey, Kumarakom, Kovalam, Varkala & Wayanad is famous all through the world can come in handy if you are visiting Kerala. Here  is a  Kerala  Tourism Map that  clearly identifies tourist places  that  would make it easy for travelers who are coming to Kerala to plan the trip
Kerala map encompasses the entirety of Kerala in all its glory. Kerala tourist map enables you to explore God's own country which is sandwiched between the Western Ghats and the Arabian Sea.
Kerala tourism map can help you take stock of 'Spice Capital of India' where the evening wishes adieu with some of the enchanting melodies played by Mother Nature. Yes, such is the beauty and apparel of Kerala!
Let lose the wanderlust in you and plan a trip to this prismatic land with the Kerala map, there are an array of places to visit in Kerala. Make sure you make it to all these destinations and curate some of the most pleasing memories out of your trip. And in case you are finding it difficult to decide the destinations to cover, the Kerala tourism map will help you plan your trip. 
Kerala Tourism Map
God's own country also cradles some of the best shopping haunts in India. Make sure you don't miss any of them with the Kerala tourism map. The beautiful land of Kerala exudes a benign charm that can be witnessed by deciding the places to visit with the Kerala tourist map. Kerala is also home to all kinds of hotels. Resorts and also Ayurvedic spas that you can plan to visit with the Kerala map.
ALSO SEE – Best time to visit Kerala
Having a Kerala map ensures that your travel to Kerala is wholesome, educative and enriching, rejuvenating, and fulfilling.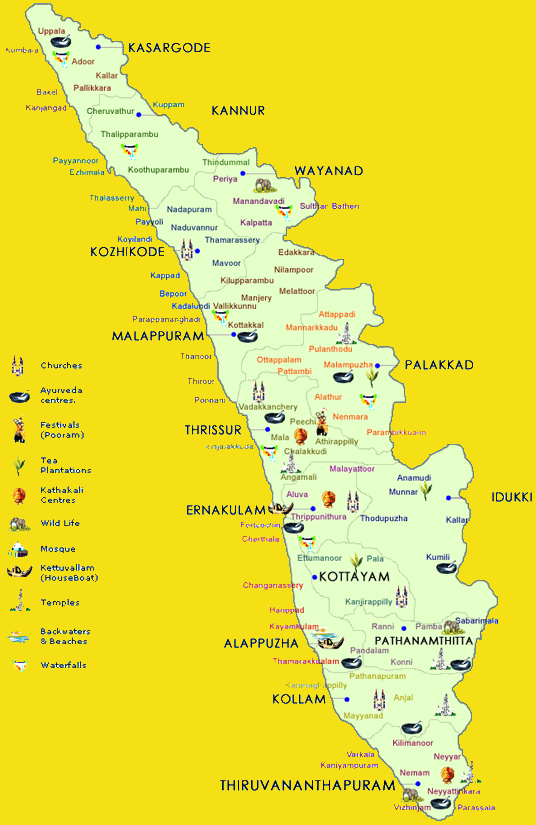 A modern and progressive state with a cosmopolitan look, the Kerala tourist map ensures that Kerala is the most sought-after destination in the world.