A helpful Kerala Backwaters Map will help you to determine the right route for Backwater Cruise.
Kerala backwater tours are marked by a unique ecosystem wherein lagoons, lakes, canals, estuaries, and deltas of several rivers meet the Arabian Sea.
Kerala backwater tours offer a perfect blend of scenic attractions and tranquility. One can go on Kerala houseboat tours and enjoy the beauty of Kerala backwaters that make their way through a number of towns and cities.
House boats in Kerala backwaters have all the creature comforts of a good hotel: well-furnished bedrooms with AC, modern hygienic toilets, cozy living rooms, a beautiful kitchen and in some cases even a balcony for angling or they use to incorporate a swimming pool too. Fresh food, cooked in inimitable traditional Kerala style is the rage of the tourists. Tourists, both domestic and foreign are flocking for house boat journey. Most tourists prefer to stay overnight in a houseboat as it offers a holistic backwater experience while day cruise package in houseboat is also a popular options.
ALSO SEE – Kerala Backwaters and Houseboat Guide
The houseboat route in Kerala backwaters begins from Punnamada jetty in Alappuzha. After the journey in daytime, the boats would be anchored in any beautiful shore in night. In many spots were the houseboats anchors; men would be waiting with small country boats. If any one interested, they can have a voyage in the country boats through the small canals. For an hour they charge Rs 200 for this journey, which is best to know the pulse of backwater life.
Kerala houseboat tours provide an opportunity for tourists to wind off stress and relax to rewind back to life.
Kerala Backwaters Map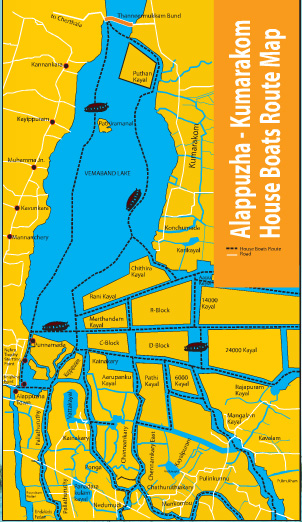 Kerala backwaters map provides a clear picture of various backwater tour destinations in Kerala.
Boats in a variety of shapes and sizes have traditionally been the main means of transport of men and materials in the Kerala Backwaters since the olden days. In particular, these boats which are locally known as Kettuvallam were used to ship rice and spices, and other goods between Kuttanad and the Cochin port.
These boats even became comfortable living quarters for the workers. It was the important mode of transportation in coastal Kerala just because of its accessibility to the most remote areas. However, the scenario changed when a new mode of transportation like lorries took over the sector. Many of the boats have remained unused and some were sold for cheap prices. But when the idea of houseboats struck, the boats, which were used to transport goods, were taken a new attractive shape with all facilities. The price for the boats soared to Rs 10 to 15 lakh.
Travel Information about Kerala Houseboats and Kerala Backwaters Map
The crew of a Kettuvallam comprises three persons, two oarsmen and a cook.
Life jacket for each traveler and one life buoy for two travelers is a must.
Two fire extinguishers weighing 5 kgs, two fire buckets , two cubic feet sand box and first aid boxes are compulsory in the house boat.
The boat must have certificate from pollution control board, canal licence, fitness certificate and the attested copies of these must be shown in the boat.
As per the report of Pareedupillai commission, a board showing all these must be exhibited.
Things to be noted
The peak sessions are from December 15 to January 10. There would be heavy rush during New Year and Christmas. The rent would be high in these days.
Best Time to visit Kerala backwaters are all times of the year. However, monsoon rides may not be enjoyable as Kerala has a knack of throwing up sudden bursts of showers in monsoon and if it is a heavy shower you may not enjoy as much as you would wish to.
The check-in times is 11 am, 12 noons, and 1 pm, and check-out is the next day at 9 am. The boat is permitted to ride on the lake from 5.30 to 6 pm. The lake at the night is for fishermen.
Food would be cooked in the boat itself and vegetarian and non-vegetarian food are available.
Keep mobile in pouches. Take photographs by hanging the camera strip in your neck.
Don't throw wastes, especially plastic into the water.
Keep vigil on kids
Follow the instructions of boatmen.
Ensure that life jacket and first aid kit are available
When agents approach you with ride for less charge, before journey, the boat riding hours and facilities must be ensured.
Kerala backwaters map will help you plan your Kerala houseboat tours where you will get to experience the rural lifestyle as you pass by, watch the animals and listen to the chirping of birds and the wind swaying the palm of tall coconut trees.
Kerala backwater tours offer a rejuvenating experience for tourists visiting Kerala.
Plan your Kerala backwater tours with us and experience the real beauty of God's own country while mesmerizing Kerala houseboat tours.