Yay! We got a mail today morning from TripAdvisor announcing our fourth consecutive win of TripAdvisor Certificate of Excellence 🙂 and we are super happy about winning this award from TripAdvisor once again.
We value this award very high as this is not based on no of guests you handle or decision by an award committee but based on true experiences of our guests who traveled and booked holidays with us . When someone takes few minutes to share an experience about their holiday it shows that they value and appreciate the efforts we have taken in making their holiday really special.
As they say in the mail below, you dont win this award. You EARN it 😛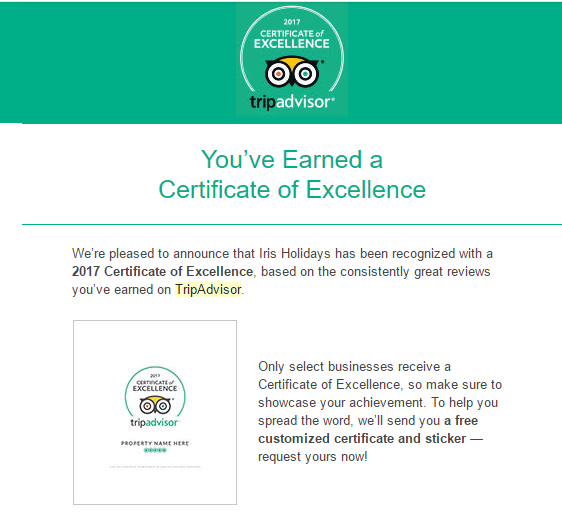 We won it in 2017, 2016, 2015 and 2014.
People like you visited us, appreciated us (well, most of the time) and were kind enough to share their experiences so that we can improve Kerala experience for more guests like you who are visiting Kerala. Every now and then, we take a few stray leaves out of our guest books and put them up here on our website.
Here is a look at our last three posts announcing the TripAdvisor Certificate of Excellence
2014– Iris Holidays Awarded 2014 TripAdvisor Certificate of Excellence
2015 – Thanks for the Customer Love and for rating Iris Holidays as the best tour activity in Kochi in TripAdvisor
2016 – And it's a hat-trick! Iris Holidays is a winner of TripAdvisor Certificate of Excellence 2016
Only select businesses receive a Certificate of Excellence, and we would like to thank all our guests who took time to share their experience with Iris Holidays on TripAdvisor as well as our Trip Designers who put in extra efforts to design trips that would make sure that our guests were always happy when they are booking holidays with us.