A Holiday always gives everyone a great time out from their busy schedule. Deciding to take a break from our everyday busy schedules is always important at a point in time and if you can add adventure tourism to your holiday it becomes even more exciting.
Adventure Tourism in Kerala features quite a variety of activities such as Paragliding, Bamboo Rafting, Mountain Climbing, nature walking, Tree House Stay, cycling, and camping out while taking walks into the forests and climbing hills are some of the more known frills to be seen. The fact that these holidays help people bond more especially in families is also an encouraging factor. This is due to the fact that the basic human relations which get developed during adventure holidays such as teamwork and cooperation bring out the best in individuals.
Adventure Tourism in Kerala Activities
Kerala is ideal for adventure activities as a place dotted with rivers, beaches, and hills, the potential seems far from realized. Trekking, rock climbing, camping in hills, and water-based adventure activities like kayaking, canoeing, and yachting are popular in Kerala adventure tourism.
Surfing
Kerala is a popular tourist destination for Surfing enthusiasts in India and Kannur, Kovalam and Varkala are among the best destinations to surf in India. January and February are the best months to surf in Kerala when you get the best swell size for waves. For any surfer in the world, a wave with no one else on it to surf is a priceless experience and that is what makes Kerala a unique surfing destination.
Popular Destinations in Kerala to do Surfing
-Soul & Surf (soulandsurf.com) in Varkala is a popular surfing trainer in Kerala and their programs include accommodation, breakfast, and guiding.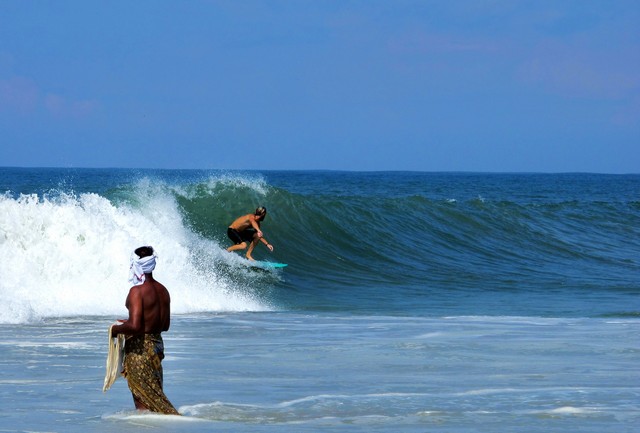 Paragliding
The seven months post the southwest monsoon is ideal for aero sports in Kerala since wind speed and quality are predictable and are safe for adventure enthusiasts who are looking to experience paragliding. Paragliding is a sport in which the pilot can fly a lightweight, free-flying, foot-launched glider aircraft in the air from the top of hills and flies over plains and the pilot flies from below a harness suspended below a lightweight wing.
Popular Destinations in Kerala to do Paragliding
– Vagamon in Idukki district is now turning into a popular hub for paragliding in the State.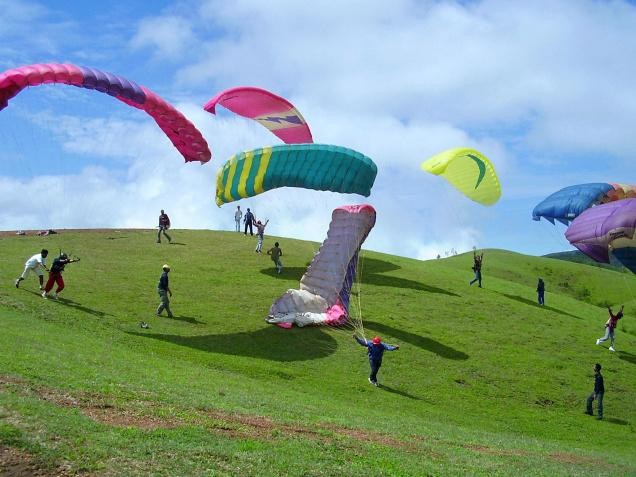 Bamboo Rafting
For the more cautious, however, Bamboo rafting along the rivers could give a more serene form of adventure on the waters as the visitors get to enjoy the enchantingly beautiful forests and view the different arboreal animals. The Bamboo rafting adventure can go for as long as nine hours and so provide a full experience. Indeed, Kerala gives any visitor an experience to remember through bamboo rafting and bamboo rafting in Thekkady had been practices by tribals who were inhabiting the place which was once Periyar Wildlife sanctuary
Popular Destinations in Kerala to do Bamboo Rafting
– Thekkady in Kerala is among the best places in India for bamboo rafting.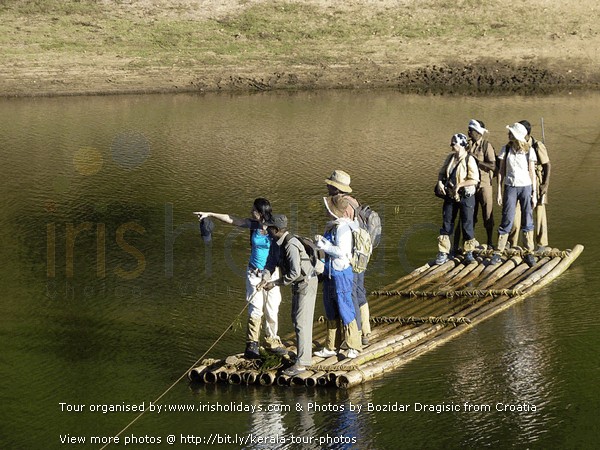 Mountain Climbing
An activity that readily catches the attention of many is a highlight in adventure tourism in Kerala. It is a known fact that mountain climbing is a mentally challenging and fitness-building sport but it can also be so much fun. The availability of mountain climbing spots in Kerala ensures that the adventure is as intense as you want it to be whilst retaining the element of fun. Normally it takes a full day to climb the mountain and so quite a number of preparations have to go into it such as the use of repellants and feeding plans.
Popular Destinations in Kerala to do Mountain Climbing
– Munnar, Wayanad, Thenmala, and Thekkady are popular destinations in Kerala for mountain climbing.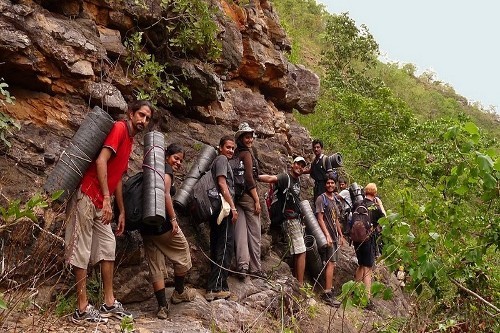 Trekking
For those who however have the fear of heights or are just not up to the challenging task of mountain climbing, there are also trekking activities which can be arranged to go on for days so as to ensure that visitors enjoy the forests fully. Cooking and sleeping will be done in the jungle and the mystery filled forests of Kerala will be enjoyed during this adventure.
Popular Destinations in Kerala to do Trekking
– Some adventure activities in Kerala adventure tourism that you can actively partake in are Trekking – Kerala is considered one of the top destinations for trekking. Chembara Peak in Wayanad, Meesapulimala, and Kolukkumalai in Munnar and parts of mountain ranges near Thenmala are ideal for trekking in Kerala.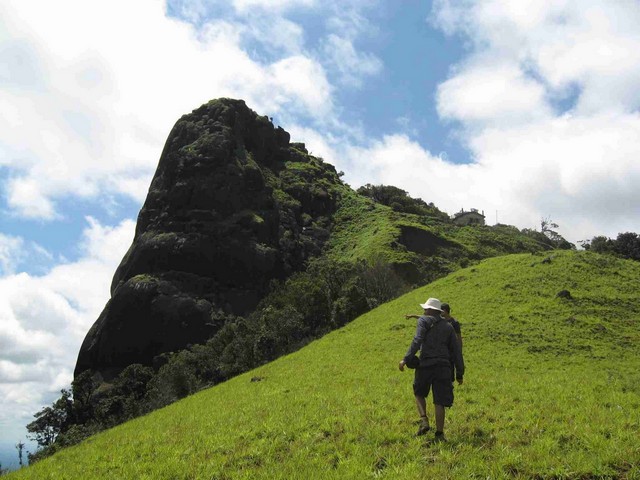 Kayaking
For those who prefer the sight of the rivers and are much more at home with the water bodies, the canoeing and Kayaking opportunities in the backwaters of Kerala in Alleppey, Kumarakom, and Kannur get many visitors instantly excited as the Kerala culture and cuisine gets to be experienced fully even while being on a kayaking trip.
Popular Destinations in Kerala to do Kayaking
– Many enthusiastic tourists and natives are seen to relish the highly acclaimed water sports in Kerala. Kerala offers a wide range of water sports to try which includes snorkeling, banana boat ride, diving, canoeing, etc. It is the best destination for adventure junkies. When it comes to water sports in Kerala, Alleppey is the best best place to paddle and do kayaking in India, and kayaking in Alleppey is a culinary and cultural adventure.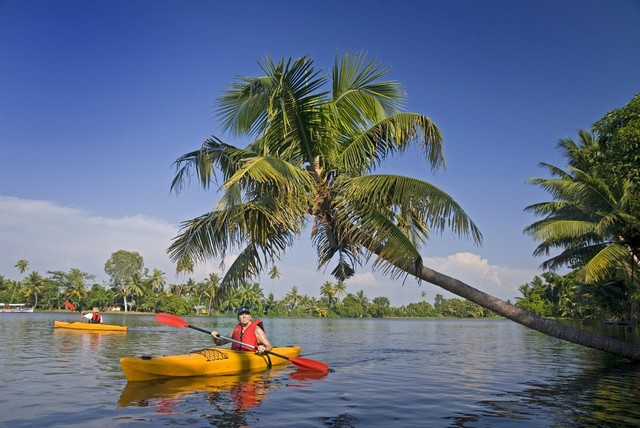 Tree House Stay
Kerala also has exquisitely designed tree houses inside forests and on the top of the mountains. Most of the treehouses are operated by owners who are passionate about eco friendly architecture and have balconies that feature display of the surrounding forest, creating the true experience to immerse in nature.
Popular Destinations in Kerala to do Tree House Stay
– Munnar, Thekkady, Athirappilly and Wayanad has Kerala treehouse and http://www.keralatreehouse.in is a website that can help you to choose the correct treehoue stay in boutique treehouse resorts in Kerala.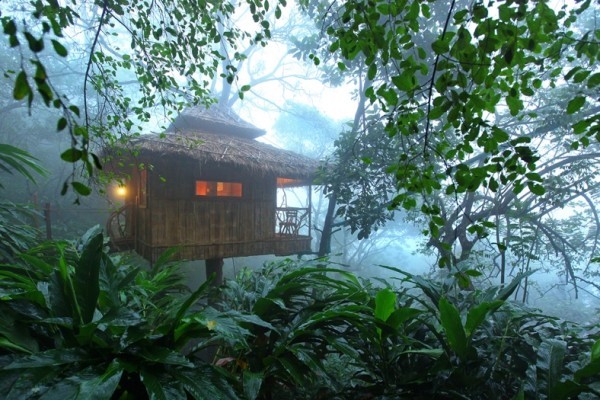 Para Sailing
Parasailing is a water sport commonly indulged in beaches and sea side resorts. The sailor is strapped to a parachute which in turn is attached by a harness to a motor boat or some such small vessel . October to March which is the peak season to enjoy the best para sailing experience in Kerala. In this period that comes after monsoon , the skies are clear and cloudless and the temperature and flow of wind is just ideal to enjoy para sailing. The water in the sea is also calm and placid and you have a very fine experience.
Popular Destinations in Kerala to do Para Sailing
-Para Sailing is available in Kovalam and Alappuzha beaches in Kerala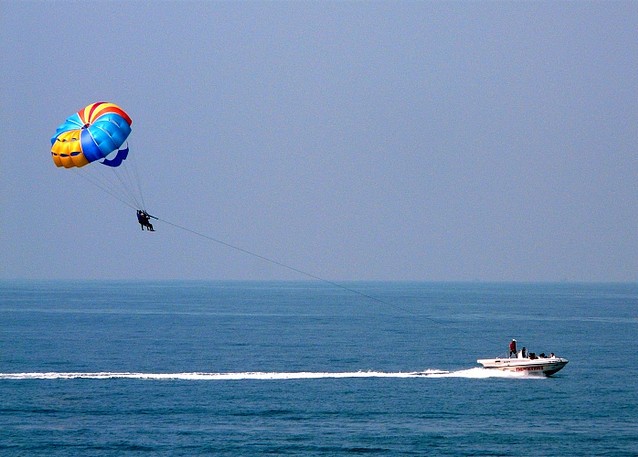 Jeep Safari
Jeep Safari covers traveling in an open jeep through dense green vegetation or thick forests and aromatic spice plantations and is available for a small payment in homestays , resorts and plantation bungalows in Kerala. This can also be combined as a starting event with Jungle patrol and Night Patrol
Popular Destinations in Kerala to do Jeep Safari
-Jeep Safari in Kerala is available in Thekkady, Munnar and Wayanad in Kerala.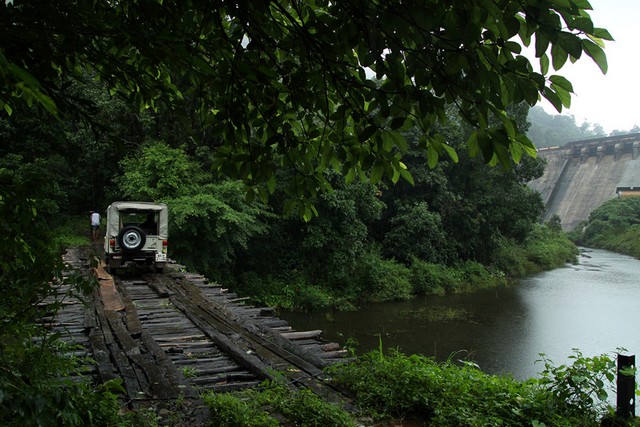 Catamaran Sailing
A catamaran is a small often wooden vessel with twin hulls joined together, which usually set sail across the backwaters of Kerala. The word 'Catamaran' actually derived from the Tamil word "Kattu Maram", meaning wooden logs, and was used in South India in wars in the ancient days. Motorized catamarans are also in use to promote adventure tourism in Kerala and unlike a boat or houseboat traveling in a Catamaran is a daring attempt to conquer the water. This activity is mostly performed in Kerala due to Kerala most part is covered with water. So tourists love this activity and want to do the same while enjoying the Kerala adventure tourism.
Popular Destinations in Kerala to do Catamaran Sailing
Catamaran sailing tourist spots in Kerala are Alappuzha, Varkala, Kovalam, Kannur etc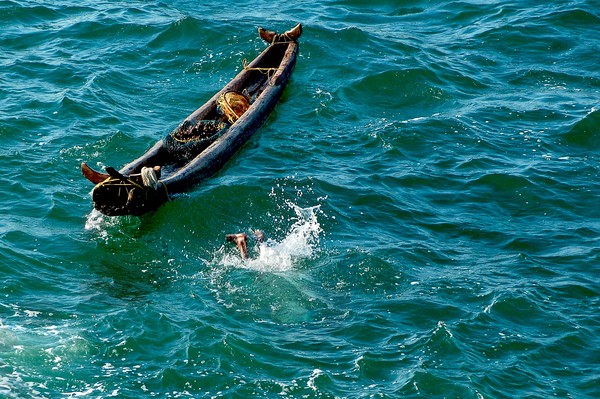 Para Motoring
Paramotoring sets a paraglider pilot free from the limitation of being on a hill to launch and also eliminates the restrictions of weather parameters and for a lot of would-be flyers, this is a chance to survey Kerala's green, god's-own-country landscape from the air. Paramotors come in different sizes, each with slightly differing capabilities. Firstly, there are the foot-launched paramotors and the paramotor trikes. Some of his smaller trikes carry a maximum of 16 liters of petrol and can even stay airborne for up to seven hours with one person on board. With two people the same machine can stay in the air for about three hours.
Popular Destinations in Kerala to do Para-motoring
Para-motoring can be promoted in beaches like Muzhipilangad, Payyambalam and Varkala.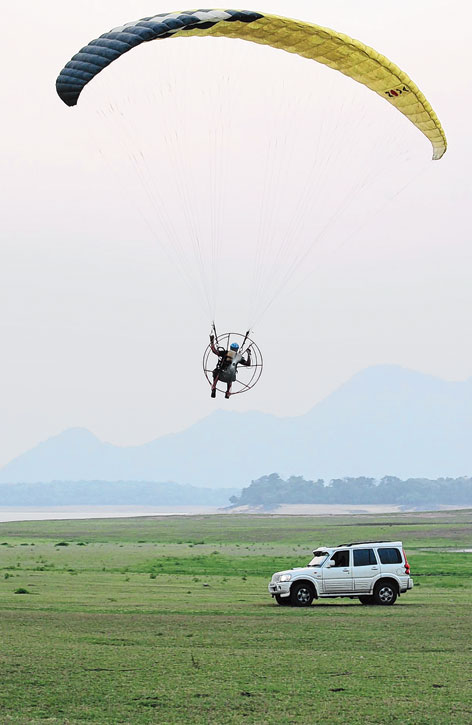 Bull Races or Maramadi
Maramadi or Bull Races is held every year in Kerala during the post-harvest season. Unlike the Spanish bullfights, maramadi happens in paddy fields after the harvest. Each team in Maramadi consists of three guides and two bulls and human masters have the important role of guiding the bulls during the race. Bulls are bred and raised specifically for the purpose of running in Maramadi competitions. They are well-fed and groomed, and on the big day, they are dressed in bright colors and have their horns painted.
Popular Destinations in Kerala to do Bull Race
Anandapali village, located in the Pathnamthitta District, and villages in Palakkad districts are the ideal places to take part in the Bull race as a spectator.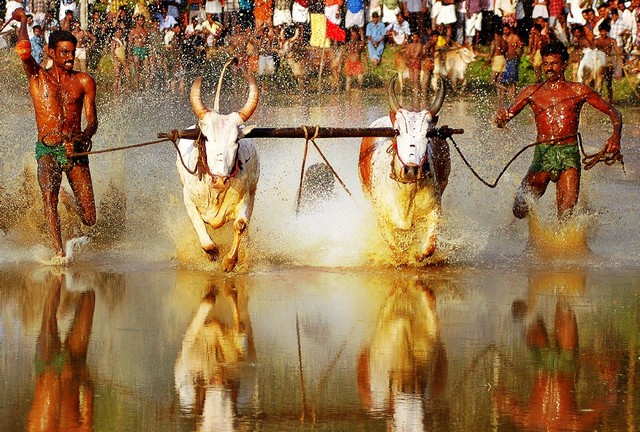 Frequently Asked Questions about Adventure Tourism In Kerala.
What is high adventure tourism?
Adventure tourism is a tourist activity that includes physical activity and cultural exchange. Soft adventure travel is relatively safe and hardly requires skills and experience like backpacking, birdwatching, camping, canoeing, fishing, hiking, horseback riding, kayaking, safaris, sailing, and surfing. Hard adventure travel is riskier and requires more skills and experience like caving, rock climbing, and trekking.
What are the benefits of adventure tourism?
Whether it's a trek into the mountains, a cycle along rural back roads, a mountain bike challenge over rugged mountains, or a climbing expedition to a majestic peak, an active adventure can liberate the soul and benefit your physical, mental, and emotional state.
Why do we crave adventure?
Adventure tourism provides a positive attitude in the same way it releases our stress and mental problem because of the excitement and happiness we experience during the same.
Why is adventure tourism popular?
As travelers seek new and different experiences, adventure tourism in Kerala continues to grow in popularity. Adventure travel brings us closer to our inner self and gives us the chance to examine and challenge ourselves.