Welcome to India! For guests who are planning to visit Kerala the visits are going to get easier as long as you have a passport valid for six months, a photograph, $60 and four days. If you are planning to visit India, you can upload a passport valid for six months, a photograph along with an online application form in the website https://indianvisaonline.gov.in/visa/, pay your visa fees of USD 62 via debit or credit card, and wait to receive an "electronic travel authorization" via email.
Online Visa in India has been launched in 9 airports including Kochi and Trivandrum Airport as well as
Delhi, Mumbai, Chennai, Kolkata, Bengaluru, Hyderabad and Goa. When you arrive at this airport you may have to present your electronic travel authorization, and have your biometric details recorded at immigration counter.Your photograph in the application should show a front view of your full face from the top of your hair to the bottom of your chin, centered within the frame and with your eyes open. Make sure there are no shadows on the face or background, and upload a square image without borders — against a white or light background — as a JPEG file between 10 KB and 1 MB in size.
Australia, Brazil, Cambodia, Cook Islands, Djibouti, Fiji, Finland, Germany, Indonesia, Israel, Japan, Jordan, Kenya, Kiribati, Laos, Luxembourg, Marshall Islands, Mauritius, Mexico, Micronesia, Myanmar, Nauru, New Zealand, Niue Island, Norway, Oman, Palau, Palestine, Papua New Guinea, Philippines, Republic of Korea, Russia, Samoa, Singapore, Solomon Islands, Thailand, Tonga, Tuvalu, UAE, Ukraine, USA, Vanuatu, Vietnam.You should have a return ticket as well as enough money to spend during your stay in India as well.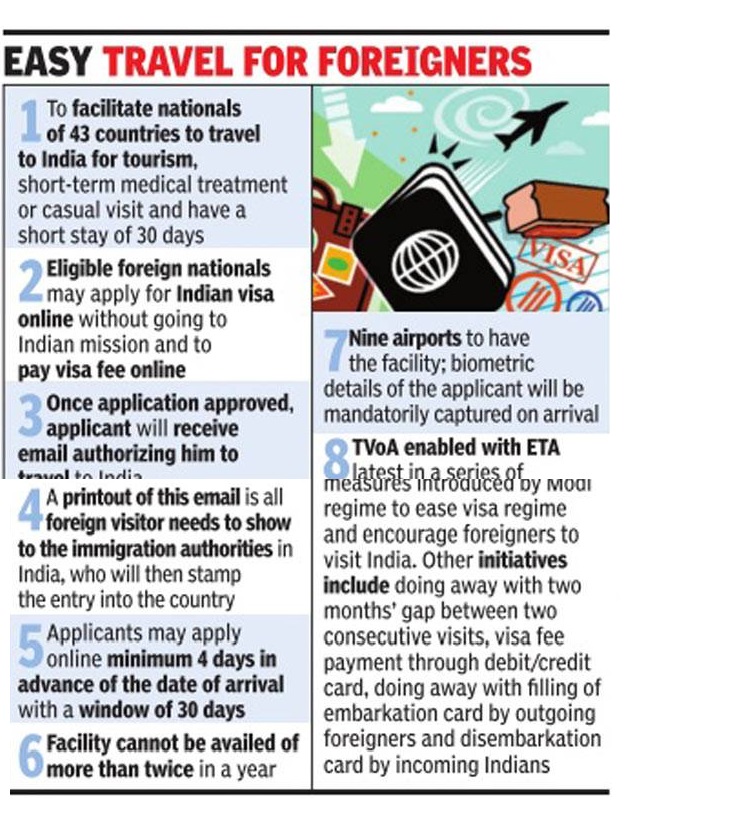 All travelers traveling from Countries Eligible for Online Visa in India on leisure,recreation, sight seeing short duration medical treatment, casual business visit or to meet friends and relatives will be eligible to apply under these heads. You can't extend this visa, or apply for it more than twice in a year and you must apply at least four days at up to 30 days in advance of your visit to India, and once you arrive you can only stay in the country for 30 days.You can check the status of the visa applicatin at https://indianvisaonline.gov.in/visa/VisaEnquiry.jsp
The implementation of Tourist Visa on Arrival enabled with electronic travel authorisation (ETA) shows that India is serious in making travel to the country easy and increase the contribution of tourism to GDP.
---
Want to book a holiday in Kerala ? Contact us Today for a FREE Holiday Plan