Kerala has a a reliable transportation system and a tourism network which makes easy for a traveler to move around while on a holiday in Kerala. One of the boons of tourist destinations in Kerala is the unmatched services of efficient and Multi language speaking drivers with good knowledge of local tourist places who excels in their service to visitors of Gods own country.
Here is a list of common questions that guest ask us when they want to book a holiday in Kerala and if you are planning to visit Kerala, and is planning to hire a kerala taxi on rent , check these FAQs.
I am coming for a holiday to Kerala and my plan is to travel for more than two days. Should I hire a taxi in Kerala from point to point or should I take a single car and driver from a tour operator?
If you are coming for a holiday to Kerala and is planning to travel for more than two days, then it is better to hire a car in Kerala as it will work out cheaper for you at the end. Moreover it is much more safe and comfortable to travel with a single driver for the entire trip and do kerala taxi booking in advance rather than depending on total strangers that you meet on the way.
Should I pay anything extra when I book a car for the entire trip?
The tour cost quoted by most tour operators is inclusive of Fuel, Parking ,Toll, Driver Allowance etc for a blocked distance in kilometers.Service tax will be additional .However please do make sure that you know how many kilometers have been blocked for you at the beginning of the trip.
I am coming for a honeymoon trip. What is the ideal vehicle for me?
If you are coming as a couple as in the couple who want to do one of those famous Kerala Honeymoon Packages, then it is better to opt for an A/C TATA Indica or A/C Indigo. If you are coming with a group of more than three people then you should either opt for a Toyota Innova or Chevrolet Tavera.
I will be landing at Kochi airport/ Trivandrum Airport and will need to travel to only one destination in Kerala, Can I take a taxi on rent from the airport itself ?
If you are arriving at any of the airports in Kerala like Kochi Airport , Ernakulam Railway station, Ernakulam Bus Stand or Trivadrum Airport usually pre paid taxis are available near the arrival terminal and you can take a taxi on rent on prepaid taxi charges.
ALSO SEE How to book Taxis from Cochin Airport (COK)
Destinations that I want to travel are really far apart. Will i have to pay something extra at the end?
If you plan to travel is a single vehicle for the complete itinerary then the distances between destinations wont matter as the sum total of all destinations mostly work out to less than what has been blocked for you by the tour operator and typically 150 to 200 kilometers are blocked in a day by a tour operator.
ALSO SEE Package Holidays to Kerala from UK – Photo Essay
Is it still worth traveling in Kerala if I don't have a rental car? Why shouldn't I use the public transport system
Nice has a good network of public transport, both in town and around is a specialty of Kerala. However when on a vacation in Kerala we would recommend using the same only if you are on a tight budget and cant afford a car. Simply because you will waste a lot of time running around and waiting for buses and other modes of public transport and unlike a rental car , the buses and other public transport may not go till the entrance of the hotel where you want to stay which means spending extra for local transport. The public transportation is crowded and may not provide you with a comfortable experience that you are looking forward for in a holiday.
How much do you tip in Kerala ?
When you take any vehicle on rent, and you received the service above your expectations you can give a tip of around Rs.300 for day . If the driver took you to the kind of shops and places that you wanted and not the usual places where he may get commission anyway, ensure that you are tipping the person handsomely.
ALSO SEE Tipping in Kerala – How much do you tip in Kerala ?
I am planning to travel from Destination A to Destination B and wondering what will be my kerala taxi fare. How should I calculate the same?
You can use our Kerala road distance calculator to find the distance between Destination A to Destination B and the approximate kerala taxi rates for vehicles like Tata indica a/c , indigo , logan ,ertiga ,bolero ,tavera ,xylo ,scorpio ,innova ,traveller 12 seater ,traveller 14 seater ,traveller 17 seater .
Which are the most popular vehicles that can be hired as cars or taxis in Kerala ?
Economy cars are the most sought-after ones for tourists who need the most economical and standard travel available. The taxis that you should use will vary depending on your budget and no of people who are traveling with you. Here are the taxis we suggest based on the number of guests who are traveling with you.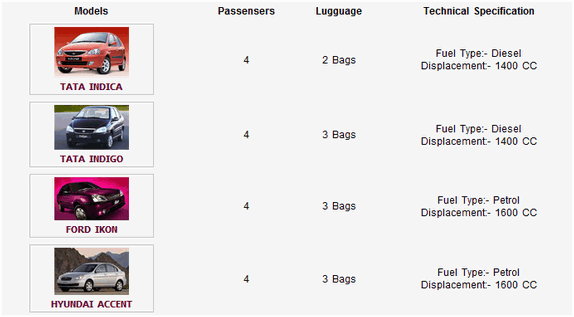 I am a solo female traveller and is planning to take a taxi on rent?
Many women who have traveled alone describe an incredible sense of freedom and possibility in Kerala and Kerala is ranked as #1 in law and order in India and it is absolutely safe for any solo female traveler to rent a Kerala taxi. Kerala also has a women only car service known as She Taxi which can be used inside the cities like Kochi and Trivandrum.
Hope these helps to hiring the right car and planning for the right experience in Kerala. If you have any more queries on kerala taxi, taxi fare in kerala or kerala taxi services please feel free to ask the questions below in the comments.
---
Want to book a holiday in Kerala ? Contact us Today for a FREE Holiday Plan