We still remember the first time when someone posted a review about Iris Holidays on TripAdvisor in 2010. All of us were really thrilled when the reviewer titled the review as
Iris Holidays – The True Definition of Customer Service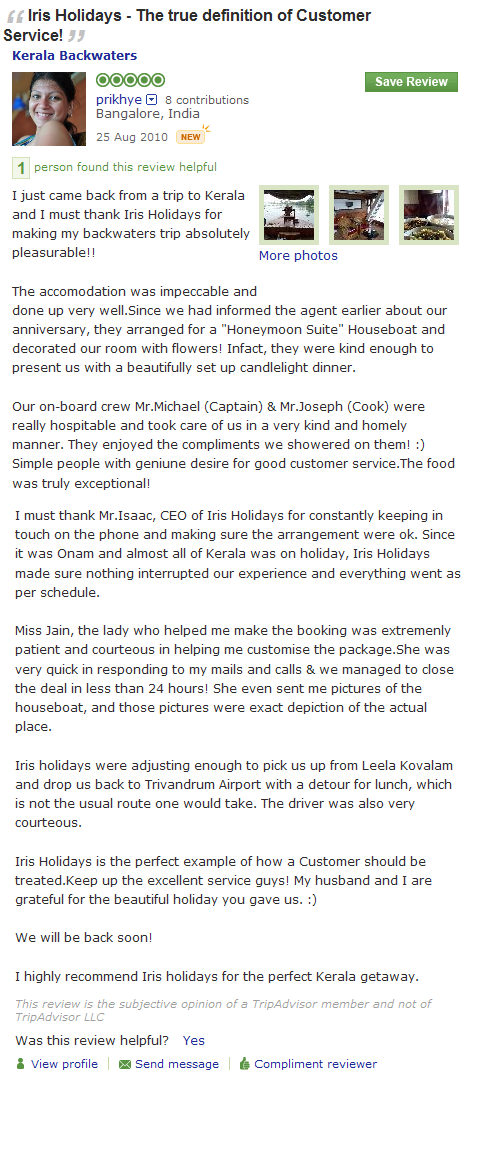 We were thrilled because when we tried conceptualising Iris Holidays we wanted our guests to remember us for Customer Service and highest quality holidays that offer authentic, elegant and unique surroundings and experiences ensuring customer satisfaction, retention, and loyalty. We cater only to travelers bound for Kerala & because of this narrow focus, you can expect deep,passionate and personal expertise on any holiday in Kerala or honeymoon that you book with us.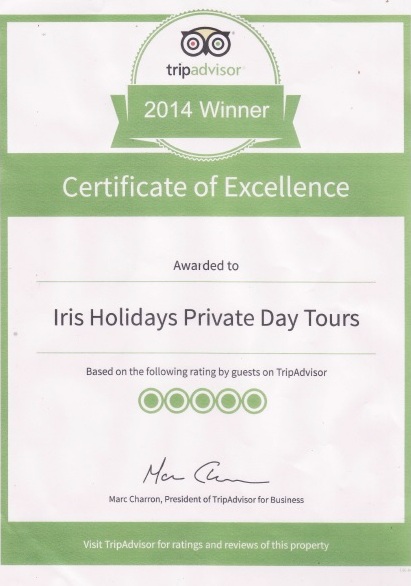 Iris Holidays won the 2014 TripAdvisor Certificate of Excellence and have recently climbed up the charts of all tours being offered by tour operators in Kochi and is currently rated as No 1 among all the tours listed on TripAdvisor.We are thankful for the Customer Love and for rating us as the best in TripAdvisor through their reviews in February 2015.
If you know more about Iris Holidays and what we stand for , please see the vision and mission listed at our About Iris Holidays Page below
We have our own methods like guest happiness index and kerala tour reviews with photos of actual customers that we monitor carefully every month but reviews in tripadvsior are public and we always read all the reviews carefully.
As Iris Holidays team we always strive to dig deep ( just like we prepare our holiday packages in Kerala ) and wanted to make it interesting and enjoyable experience for anyone who is reading it and we were curious to know what exactly is being told by all our reviewers and we created a word cloud with all the Trip Advisor Reviews.
A word cloud is a stylized way of visually representing occurrences of words used in a group like review etc . The most popular and often repeated words are normally highlighted in a larger, bolder font. A word cloud can easily help in identifying the most popular tags within a group of words – making it easy to discern the words that are being repeatedly covered in one quick look. We used a service called Tagul.com to create these word clouds.
We first created a word cloud to see what customers who loved us in TripAdvsior said about us and created a word cloud in the shape of a
We know customers loved us in these TripAdvisor because of the following words which are often repeated in TripAdvisor reviews when we created the love cloud
Iris , Good, Trip, Best , Kerala , Thank, Service , Excellent , Package , Nice , Driver , Plan, Cab, Time, Well , Room , Travel
We added more iris holidays TripAdvisor reviews and again tried creating another fun shape like a car
We know customers loved us in these TripAdvisor because of the following words which are often repeated in TripAdvisor and again these words stood out when we created the car cloud
Iris , Kerala, Trip, Place ,Thank, Good , Best , Resort, Driver, Holiday, Very , Stay
We wanted to Thank all our customers who reviewed us in TripAdvsior for the Customer Love and for rating us as #1  in TripAdvisor among all activities in Kochi and move our your mouse over the word cloud and check what our customers are saying about us and if you are a customer who has traveled with us please feel free to review us in TripAdvisor , Google Plus or Facebook. займ воронежзайм в кивизайм в день обращения