A Kerala houseboat, locally known as Kettuvallam, was used to transport the rice harvested in the fertile fields of Kuttanad alongside the backwaters to towns in ancient days. Kettu means knot in local language Kettuvallam means a boat made by tying together pieces of wood. Not a single nail is used in the making of a Kettuvallam and it is built by are joining together anjili wood panes with coir ropes and then by coating with black resin made from boiled cashew nut shells. The materials that go into the making are all local and include eco friendly bamboo poles, coconut fiber ropes, bamboo mats, coir carpets etc.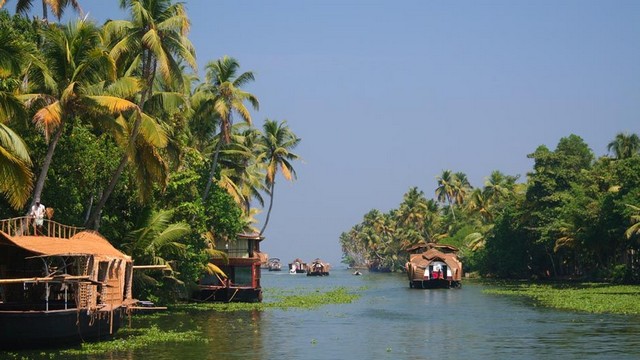 These traditional country boats were used as the mode of transport in the early times from the interior villages in Kerala to places like Alleppey, Kottayam, Cochin and Kollam.Later these boat services became extinct with the introduction of modern transport services between towns and villages. However houseboats were revived in late 90s due to tourist inflow and houseboats of kerala have become the symbol of Kerala tourism. No tourist experiencing in Kerala is complete without a kerala houseboat cruise.
Rooms, Facilities & Staff
Kerala house boats have fully furnished single double triple and five bedrooms with sundeck, private balcony with comfortable chairs, kitchen and toilet. In addition there is also separate rest room with television and a crew comprising two oarsmen and a cook . It takes great skill and meticulousness to construct and navigate these giant Houseboats by tying huge planks of Anjili tree and the staff has been trained properly. All Houseboats have adequate safety measures and Kerala government and tourism department conducts periodic audits and inspections to ensure safety of tourists.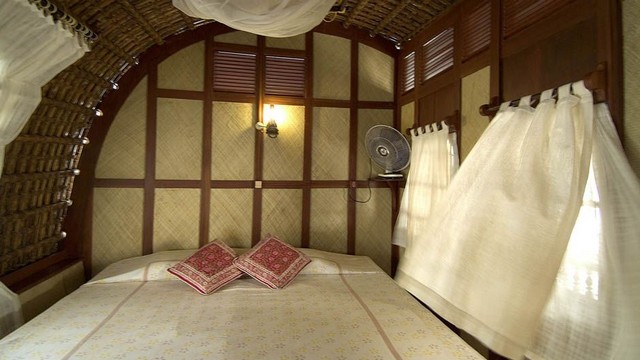 Food & Dining
When you book a Kerala houseboat cruise for one night all meals will be served on board. The cuisine is continental, south Indian, North Indian or traditional Kerala flavored with the local specialties; delicious local fish which can be caught from the backwaters if you are really lucky in your houseboat fishing attempt.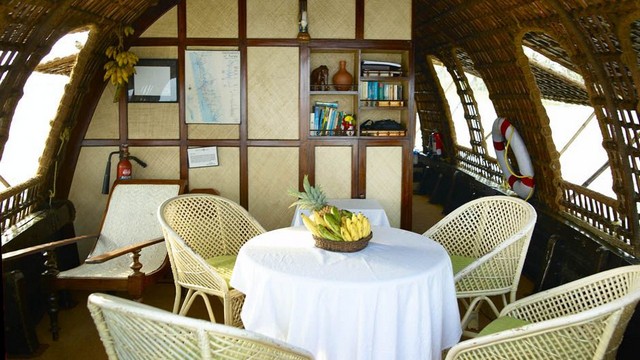 How to select a Kerala houseboat package?
You can check out our list of Kerala houseboat Packages athttp://irisholidays.com/kerala/kerala-houseboat-packages.html and tips on booking the Kerala Houseboat.
Starting point of a Kerala Houseboat Cruise is Alleppey or Kumarakom. Houseboats of Kerala are available for rental from prices starting from Rs.4500 for a Non A/C to Rs.6000 for a premium houseboat or Rs.40000 for a super luxury houseboat with butlers. Select a single bedroom houseboat for two people and two bedroom houseboats for four people, 3 bedroom houseboat for six people and a 5 bedroom houseboat for 10 People.The average cost for a 20 hour boat cruise for a couple in a good A/C houseboat will be Rs.5000/-
Ask for special arrangements like candle light dinner , flower arrangement etc if you are coming for a honeymoon or a romantic cruise. Food preferences (Vegetarian/ Non Vegetarian) has to be specified before the boat leaves from the shore. Fishing Arrangements and canoeing in a traditional Kerala boat can also be arranged on request.
While many Kerala Houseboat Cruises take tourists from a particular point and bring them back to around the same point next morning there are some specific cruises mostly in the Alappuzha area, such as the one night cruise from Alappuzha to Thotapally via Punnamada Lake,two nights cruise from Alappuzha to Alumkavadi,one night cruise from Alappuzha to Kidangara and one night cruise from Alappuzha to Mankotta.There are numerous such cruises which we arrange for our guests on special request.
---
Want to book a holiday in Kerala ? Contact us Today for a FREE Holiday Plan