Ayurveda Treatments can be customised to treat anxiety, depression, hypertension, insomnia, different backaches, arthritis of the knee joint, pain disorders of different sites, neurological ailments, hair loss and the falling hair etc and the most famous Ayurveda Therapy is Panchakarma Treatment .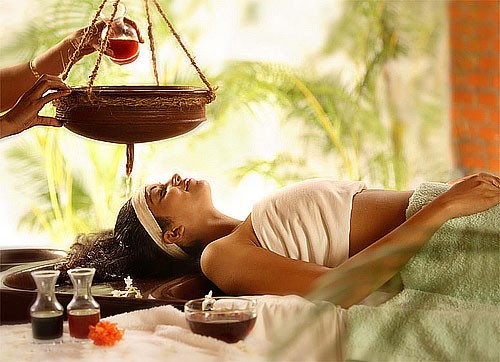 We offer affordable Kerala Ayurveda Packages with Green Leaf Certified Resorts & Hospitals in Kerala and here is a post that will help you in selecting an Ayurvedic Health Resort in Kerala.
The elevation of 'Ayurveda' as a USP of Kerala Tourism has brought a substantial increase in the ayurveda massage centres in and around all the major tourist destinations in the State. Most of these operate according to their terms and often flout safety and health regulations. To forestall any such misuse and maintain a uniformity of practice Government of Kerala has brought out a scheme for the Approval of Ayurveda Centres where Ayurveda Resorts are classified as Green Leaf and Olive Leaf.
Criteria for Olive Leaf Certificate
For obtaining Olive Leaf Certificate, Ayurveda centres should observe the following criteria.
a) The treatments/therapies should be done only under the supervision of a qualified physician with a recognised degree in Ayurveda.
b) There should be at least two numbers of masseurs (one male and one female) having sufficient training from recognised ayurveda institutions by the Government.
c) Following the Kerala tradition, male will be massaged only by male masseurs and female by female masseurs.
d) The centre will offer only those programmes, which are approved by the approval committee.
e) The Health programmes offered at the centre should be clearly exhibited. The centre should also exhibit the time taken for normal massage and other treatments. The generally approved time limit for a massage is 45 minutes.
f ) The medicine used should be from an approved and reputed firm. These medicines should be labeled and exhibited at the centre.
g) One massage table of minimum size 7 feet x 3 feet in each treatment room, made up of good quality wood/fibre glass.
h) Gas or electric stove.
i) Medicated hot water facility for bathing and other purposes
j) Facilities for sterilisation and every equipments and apparatus should be clean and hygienic.
i) Minimum two numbers of treatment rooms (one for males and one for females) having minimum size of 100 sq.ft with width not less than 8 feet. The rooms should have sufficient ventilation and it should be with attached bathroom of size not less than 20 sq.ft. The toilets should have proper sanitary fittings and floors and walls should be finished with proper tiles.
j) One consultation room having minimum size of 100 sq.ft with width not less than 8 feet. The room should be equipped with equipments such as BP apparatus, stethoscope, examination couch, weighing machine etc.
k) There should be a separate resting room of minimum size 100 sq.ft with width not less than 8 feet, if the centre is not attached with a hotel/resort/hospital.
l) The general construction of the building should be good. Locality and ambience, including accessibility, should be suitable. Furnishing of rooms should be of good quality. The entire building, including the surrounding premises, should be kept clean and hygienic.
Criteria for Green Leaf Certificate
The basic facilities required for Green Leaf Certificate is the same as Olive Leaf. In addition to the requirements for Olive Leaf, the following additional facilities also are essential to get Green Leaf Certificate.
a) The general construction, architectural features etc of the building should be of very high standard. The furnishing curtains, fittings etc should be with superior quality materials.
b) There should be adequate parking space in the premises.
c) The bathroom should have facilities for steam bath.
d) There should be separate hall for meditation/yoga.
e) The centres should be at picturesque locations with greenery in abundance and quiet atmosphere.
f) There should be herbal garden attached to the centre.
We would recommend you to select a Green Leaf Certified Ayurveda Centre if you are looking to experience an authentic Ayurveda Resort Packages
---
Want to book a holiday in Kerala ? Contact us Today for a FREE Holiday Plan